Group: Four Iraqis carried out bombings
(AP)
Updated: 2005-11-11 20:53
A Web statement Friday in the name of al-Qaida in Iraq claimed the deadly hotel bombings in Jordan were carried out by four Iraqis, including a man and his wife.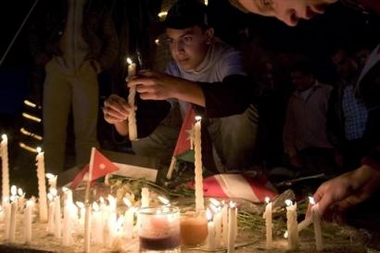 Mohammed Yahia, centre, and Harbi Hussen, right ,light candles to mourn those killed and injured in the hotel bombings at the entrance of the Days Inn Hotel, Amman, Jordan Thursday Nov. 10, 2005 after suicide bombers carried out nearly simultaneous attacks on three hotels in the Jordanian capital Wednesday night. Jordanians prepared to stage a second day of massive public protests Friday to denounce Islamic extremists responsible for triple hotel bombings in Amman, that killed at least 59 people. [AP]
"All of these are Iraqis from the land between the two rivers," the statement said, alluding to Iraq's ancient name, Mesopotamia. "They vowed to die and they chose the shortest route to receive the blessings of God."
The statement could not be authenticated, but it appeared on a site which has included past al-Qaida statements and was signed in the name of the group's spokesman, Abu Maysara al-Iraqi.