Liberia poised to have Africa's first-ever elected female president
(AFP)
Updated: 2005-11-11 11:10
Until this week, there was a good chance that when anyone called one of the many numbers listed for Liberia's Unity Party, standard bearer Ellen Johnson Sirleaf would answer the phone.
But now, with the Harvard-educated banker on the verge of becoming Africa's first elected female president and the first post-war head of state for the conflict-torn west African nation, it's more than likely she'll have someone to do that mundane task for her.
"Who knows?" she told AFP on Thursday evening after results from 90.8 percent of polling stations nationwide gave her a lead of 59.1 percent over her rival, FIFA's former player of the year George Weah.
"My job as president will be to end the imperialism in this country, so the least I can do is answer my own calls."
After three decades of working in and fighting against government, and with a resume that boasts stints in both the private sector and within the United Nations system, the widowed grandmother is set to inherit the presidential mantle and the difficult task of rebuilding one of the world's failed states.
"I am confident, I am pleased, I am ready and I thank the Liberian people for choosing me," she said.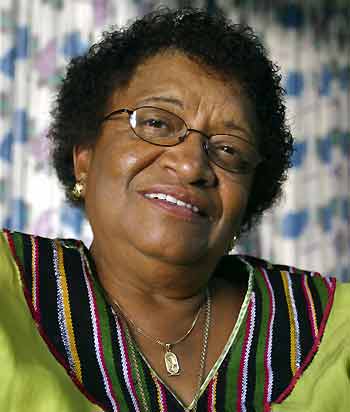 Former Liberian finance minister Ellen Johnson-Sirleaf smiles at her home in Monrovia as she claimed victory November 10, 2005 in Liberia's presidential run-off and looked set to become Africa's first elected female head of state. Announcing what seemed an unbeatable lead for the Harvard-educated banker, the National Elections Commission said that with ballots tallied from nearly 90 percent of polling stations, Johnson-Sirleaf had 59.2 percent of the votes from Tuesday's election. [Reuters]

"It is a chance to show the continent that women can lead, and a chance to help my nation recover from its brutal conflicts."

The steely-eyed determination that helped Sirleaf survive two jail terms in the 1980s on charges of treason has earned her the nickname of "Iron Lady", a spirit she says she will apply to composing a government of inclusion and tackling the problems facing her country.

There is no running water in Liberia, no electricity and just 200 kilometers (125 miles) of paved roads in the country on west Africa's Atlantic coast.

Among her key priorities, she said, is helping to reintegrate the tens of thousands of war-affected youth into civilian society, so as "to help get the government machinery working again".

She has also promised to provide electricity to the capital within six months, a seemingly impossible task that could cost upwards of 200 million dollars -- more than twice the meagre annual 80 million-dollar budget controlled by the current transitional government.

Sirleaf, a reported 66, has also made it a priority to improve the conditions of market women, a tribute, she says, to her two grandmothers who spent their lives in the hardscrabble existence facing rural populations around the lush but impoverished nation.

How to reconcile the multitude of ethnicities and tribes will pose a major challenge as despite her native roots, she is still perceived to be a member of Liberia's tiny educated elite.

She is also viewed with mistrust by the legions of youth, many of them veterans from Liberia's civil wars, who supported Weah in the polls and who were likely to be in the streets on Friday to join his peaceful demonstration against the alleged fraud he claims barred him from victory.

But Sirleaf said she was counting on the footballing icon to play an "important role" in her government of inclusion.

"I hope he gets over his disappointment so that we can work together for the good of our country, and respond to the needs, particularly of the young people," she said.

While voting trends indicate a sure win for Sirleaf, she said Thursday she would wait for an official announcement from the National Elections Commission before she proclaimed her victory.

Already, a deployment of Nigerian troops and a Swedish armored vehicle from Liberia's UN peacekeeping mission have taken up residence outside her home, monitoring the steady stream of callers, including transitional Justice Minister Kabineh Ja'neh, coming to offer their congratulations.

"(On Friday) when 100 percent of the votes are in, I will go before the Liberian people and thank them for their support and their trust," she said.