Beijing: Bush-Dalai Lama meeting negative
(China Daily/Reuters)
Updated: 2005-11-11 05:50
China criticized US President George W. Bush yesterday for meeting the Dalai Lama this week, and dismissed Washington's annual report on religious freedom as groundless.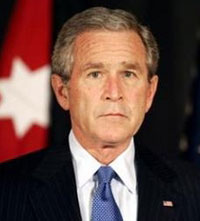 U.S. President George W. Bush looks up after signing a book of condolences at the Jordanian embassy in Washington November 10, 2005. [Reuters]

"The Dalai Lama is not a simple or a pure religious figure. He is a political exile who undertakes secessionist activities abroad," Foreign Ministry spokesman Liu Jianchao said at a regular news briefing. "We oppose meetings between him and other leaders."

Bush's White House meeting with the Dalai Lama on Wednesday came just days ahead of his Beijing visit scheduled for November 19-21.

"Other leaders should not provide a platform for him to separate the country," Liu said.

On Tuesday, the Bush administration, in a report to Congress, labelled China a serious violator of religious freedom along with Myanmar, the Democratic People's Republic of Korea (DPRK), Viet Nam, Iran, Sudan, Eritrea and Saudi Arabia.

Liu said the State Department's annual report on religious freedom, which said China restricts religious practice to State-sanctioned groups, made groundless accusations.

"We urge the US Government to stop interfering in China's religious affairs under the guise of the religion issue," Liu said, adding all people in all regions in China enjoy religious freedom in accordance with the law.

But Liu stressed the two incidents would not overshadow Bush's visit to Beijing.

"The importance will not be diminished by a single incident," he said. "The visit will achieve its planned goals."

Bush to seek China economic concessions

In the face of a widening U.S. trade deficit with China, US President George W. Bush will pressure China to make good on a pledge of economic concessions on an Asia tour that will also focus on fighting bird flu and North Korea's nuclear program, a top aide said on Thursday, the Reuters reported.