Three Chinese killed in Jordan bombing
(China Daily)
Updated: 2005-11-11 05:47
AMMAN: Three Chinese were killed and one wounded in bombings that ripped through luxury hotels in Jordan's capital on Wednesday night.
They were members of a delegation from China's University of National Defence, and were staying at one of the targeted hotels, sources at the Chinese Embassy in Jordan and the Ministry of Foreign Affairs confirmed yesterday.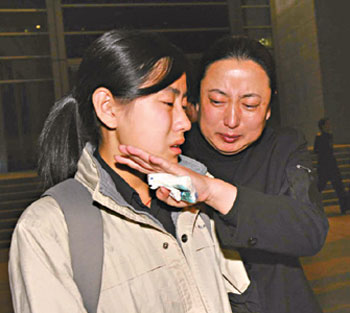 Grief-stricken relatives of the Chinese victims leave Beijing for Amman yesterday evening. [Xinhua]
An al-Qaida group led by America's deadliest foe in Iraq yesterday claimed responsibility for the deadly attacks, which killed 57 and wounded 110.
President Hu Jintao, who was in London on a state visit, asked the Foreign Ministry and relevant departments to take immediate measures and spare no effort in caring for the injured.
Hu sent a message of condolence to Jordan's King Abdullah II, saying that the Chinese Government condemns all forms of terrorism and is ready to co-operate with the international community, including Jordan, to combat terrorism.
The Foreign Ministry has advised Chinese citizens to avoid travelling to Jordan given the current situation there.
In Wednesday night's closely synchronized attacks, two bombs exploded while crowds were celebrating weddings, leaving blood and destruction at Amman Grand Hyatt and the nearby Radisson SAS. A third blast targeted a Days Inn hotel.
Al-Qaida in Iraq, led by Jordanian militant Abu Musab al-Zarqawi, said in a statement on an Islamist website that "a group of our best lions" had carried out the attacks.
"Some hotels were chosen which the Jordanian despot had turned into a backyard for the enemies of the faith, the Jews and crusaders," said the message in a reference to King Abdullah. Its authenticity could not be verified.
The United States has put a US$25 million bounty on Zarqawi, who comes from a town north of Amman.
Police said they thought the blasts were the work of suicide bombers. Simultaneous attacks are an al-Qaida hallmark and US officials said they also suspected the network.
King Abdullah blamed a "deviant and misled group" while Foreign Minister Farouq Kasrawi said the attacks would not alter the policies of the kingdom, which is a close US ally.