Al-Qaida claims Jordan suicide blasts
(AP)
Updated: 2005-11-10 21:31
Al-Qaida claimed responsibility Thursday for three suicide bomb attacks on Western hotels that killed at least 56 people in the Jordanian capital, and the terror group's Web posting linked the deadly blasts to the war in Iraq.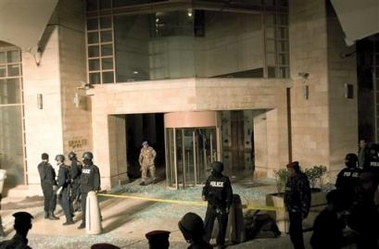 Police guard the entrance of a shattered front to the Hyatt hotel in Amman, Jordan, approximately one hour after a bomb exploded in the main lobby, Wednesday Nov 9 2005. Suicide bombers carried out nearly simultaneous attacks on three U.S.-based hotels in the Jordanian capital Wednesday night, killing at least 57 people and wounding 115 in what appeared to be an al-Qaida assault on an Arab kingdom with close ties to the United States. [AP]
Police continued a broad security lockdown and authorities sent DNA samples for testing to identify the attackers. Land borders were reopened after being closed for nearly 12 hours. The government lowered the death toll by one but gave no reason.
The al-Qaida claim, which could not be independently verified, said Jordan became a target because it was "a backyard garden for the enemies of the religion, Jews and crusaders ... a filthy place for the traitors ... and a center for prostitution."
The nearly simultaneous attacks late Wednesday also wounded more than 115 people, police said. Police detained several people overnight, although it was unclear if they were of suspects or witnesses.
The claim of responsibility, signed in the name of the spokesman for Al-Qaida in Iraq, said the attacks put the United States on notice that the "backyard camp for the crusader army is now in the range of fire of the holy warriors."
Iraqi government spokesman Laith Kubba said the attack should alert Jordan that it needed to stop playing host to former members of Saddam Hussein's regime.
"I hope that these attacks will wake up the `Jordanian street' to end their sympathy with Saddam's remnants ... who exploit the freedom in this country to have a safe shelter to plot their criminal acts against Iraqis," he said.
Jordan's Deputy Prime Minister Marwan Muasher said shortly after the blasts that al-Qaida in Iraq leader Abu Musab al-Zarqawi was a "prime suspect." The Jordanian-born al-Zarqawi is known for his animosity to the country's Hashemite monarchy. The claim of responsibility did not name King Abdullah II but twice referred to the "tyrant of Jordan."