US tells North Korea to stop reactor now
(Reuters)
Updated: 2005-11-10 11:08
North Korea must halt its nuclear weapons program now to show it is taking negotiations on disarmament seriously, the United States said on Thursday on the second day of six-party talks in Beijing.
Negotiators said the three-day session would focus on the logistics of further bargaining after a framework for disarmament was agreed in September, but the perennial issue remains trust between the two main protagonists, Washington and Pyongyang.
"You know how you build up trust? You live up to the agreement ... You can build up trust through actions," chief U.S. negotiator Christopher Hill told reporters.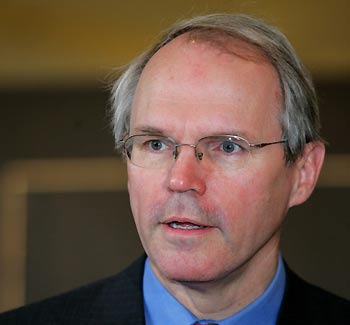 Chief U.S. negotiator Christopher Hill speaks to journalists before attending six-party nuclear talks in Beijing November 10, 2005. New talks to end North Korea's nuclear programme appear to have made modest progress but, going into their second day on Thursday, Washington and Pyongyang remained at odds over the timing and order of denuclearisation.[Reuters]

"The time to stop that reprocessing, the time to stop the reactor, is now," he said, referring to the North's nuclear plant at Yongbyon.

U.S. Ambassador to South Korea Alexander Vershbow said on Wednesday the United States would be willing to open an office in Pyongyang as a gesture of goodwill, but Hill stressed that goodwill should be reciprocal.

"The point the U.S. ambassador to South Korea was making was that the DPRK has to establish a level of trust. They're often fond of talking of our level of trust but they have some responsibilities themselves," he said, referring to the North by its official name, the Democratic People's Republic of Korea.

South Korea envoy Song Min-soon said the six parties -- the two Koreas, the United States, Japan, Russia and host China -- were working to come up with a plan to shut down Yongbyon, the center of the nuclear programs about 100 km (60 miles) north of the capital, Pyongyang.

"What we are negotiating is how to suspend the operation of (the North's) nuclear facility and to accelerate the process of moving toward dismantlement," he told reporters.

The United States says the plant has continued to operate since the September 19 joint statement, in which North Korea agreed to dismantle its nuclear programs in exchange for aid and security guarantees.

The agreement was seen as a breakthrough, but tough questions remain over the timing of concessions and the North's demands for a light-water reactor for atomic energy.

Despite the hurdles, Hill described progress on the first day of talks as "very good and substantive," though he restated Washington's position that Pyongyang could not receive the reward of a light-water reactor until it had disarmed and opened to nuclear inspectors.

Japanese envoy Kenichiro Sasae said Thursday's sessions would focus on implementation after the North on Wednesday reaffirmed its intention to scrap its nuclear programs.

Sources close to the six-party talks said North Korea told Wednesday's plenary session it was ready to abandon the programs "in phases" conditionally, but stuck to its position that it wanted a light-water reactor first.

The six-party talks began in 2003 when China sought to broker a peaceful compromise after the United States accused North Korea of covertly building atomic weapons and Pyongyang pulled out of the Non-Proliferation Treaty. The North said in February it had nuclear weapons.