China's migrant worker pool dries up
By Anastasia Liu (atimes)
Updated: 2005-11-10 10:15
On October 19, a migrant worker who killed four people over 5,000 yuan (about US$625) in wage arrears was executed in China's Ningxia Autonomous Region. His case had been much publicized by the Chinese media. Wang, a migrant worker from neighboring Gansu province, had worked over a year for a building contractor before quitting and lodging a complaint over withheld wages. Due to the contractor representative's provocation and refusal to pay up, Wang stabbed him and three others to death.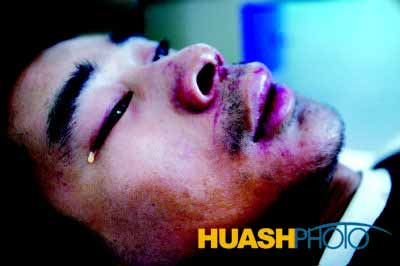 A migrant worker sheds tears lying in sick bed in a Shaanxi hospital. The young man was beaten to serious injury as he asked for back payment from a construction contractor. [huashphoto]


The disputed sum - 5,000 yuan, the annual income for the average migrant worker - in this all-too-commonplace tragedy is only the

tip of a very large iceberg. A report published by the Legal Aid and Research Center for Youth in Beijing estimates that employers throughout the country owe Chinese migrant workers more than 100 billion yuan ($12.38 billion).

Migrant workers are temporary laborers from rural areas working without official permits in cities. Many urban employers of these workers want their effort, but not the liability for safety, fair wages, family services, and a host of other rights furnished to those with residential permits by way of birthright or deep pockets. The lack of education and training of migrant workers partly explains their woes; according to the Ministry of Labor and Social Security, 83% of migrant workers have only received junior high school schooling or less, and 72% have yet to undergo any occupational training.

Yet this cannot explain fully the wage gap between urban residents and migrant workers in the same position. Professor Cai Fang, of the Chinese Academy of Social Sciences Center for Population and Labor Economics, estimates that discrimination accounts for almost 40% of the disparity. As unregistered, temporary workers in cities, migrant workers enjoy less protection and fewer resources than their urban compatriots. Yet it is these workers who have long plied the drills and shovels that are building the new China, "factory of the world". According to the fifth national census, migrant workers without urban residence permits now supply 80% of Chinese construction labor. This sort of occupational segregation stems from a basic gap in status and rights between those of rural and urban origin in the urban labor market.

Another problem is the structure and practices of construction management in China. On top of the wage gap, many migrant workers cannot even get the pay they were promised. Partly because of the transitory nature of the construction industry, claims from construction workers make up 70% of migrant workers' wage arrears cases.

Most property developers do not hire workers directly; rather, they work through building contractors who negotiate salary terms, supervise the work, and distribute wages. In this hierarchical payment system of a debt-ridden industry, wages may not reach contractors, much less make their way into workers' hands. Contractors often have no legal permit to hire and withhold wages, but developers will shrug off workers' demands, since they already paid the contractors. To make matters worse, out of ill-advised trust or desperation, some workers never sign a contract with their employer. They thus forgo any legal basis for claiming wages. Such unprotected workers make up 13% of all migrant workers.

Finally, some workers may not even know the name and contact information of the hiring company, as was the case for 46% of workers surveyed in Xian recently. The minority who successfully get a warrant to claim wages may find that the developer or contractor has closed down the company and set up shop elsewhere, or even run off with the funds.

The central government has recognized the magnitude of this problem and made getting workers their wages a key concern. In January 2004, Prime Minister Wen Jiabao ordered eight ministries and committees to ensure that wages are paid. The tide of exploitation, however, has showed no signs of ebbing. Why has all this administrative marshaling failed?

While central policies set off in the right direction, their local implementation seems only to stall workers with grievances. Requirements in labor law for written contracts, proper payment and compensation are often ignored in practice. While there are numerous bureaus and offices that workers may approach for assistance, overlapping responsibility, conflicting central and provincial regulations, procedural hassles, and high costs in fees and lost working days often bar even the most determined from claiming their wages. Frustrated workers often resort to extreme but less costly measures such as blockades, demonstrations, and even suicide to claim their wages. Wang's desperation is quite commonplace among his compatriots.

All the abuses have had an ironic result, and a troubling one for urban employers long accustomed to cheap migrant labor. After decades of exodus and little to show for it, rural workers are beginning to look closer to home for higher, safer returns for their efforts. In 2004, employers in regions such as south China began to notice a previously unimaginable phenomenon: migrant workers were no longer a source of abundant, cheap, exploitable labor. Last year, Hong Kong's Hang Seng Bank predicted that worsening labor shortages will force enterprises along the South China Sea coast to restructure into higher value-added industries. Low-wage manufacturers increasingly foresee moving to the inland villages rather than having migrant workers come to them.

However, the booming urban construction industry, due to its immobility, cannot avoid labor bottlenecks. Besides, any measures the industry may take would not address the illegal, structural imbalances in the labor supply, in that wages received do not reflect the actual market value of the work. To protect labor rights and, in the process, stabilize the vital construction sector, Chinese think tanks and NGOs have called for specific legal and administrative reforms: protection for unionization at the private enterprise level; holding workshops and other programs to educate migrant workers about labor rights; reforming employment laws and procedures where necessary; and placing the legal responsibility for documented payment to workers directly on developers' shoulders.

Besides empowering workers, any thorough solution should also target individual employers. Company directors with a record of withholding wages should be banned from starting any new construction company in the country for an extended period of time. Contractors, if still allowed in the system, should face similar restrictions. Then workers might not resort to fists or knives to get what is rightfully theirs.