New outbreaks reported, 'situation serious'
By Wang Zhenghua and Wang Xu (China Daily)
Updated: 2005-11-10 05:48
Two outbreaks of bird flu have been reported in Fuxin and Jinzhou, both in Northeast China's Liaoning Province, where the previous case was also detected.
The new outbreaks bring the total number of confirmed bird-flu cases to six since last month.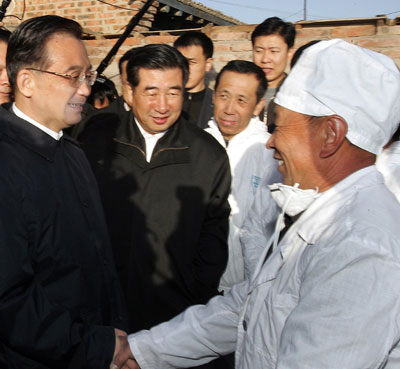 Premier Wen Jiabao shakes hands with a health worker during an inspection tour in Heishan, Liaoning Province November 8, 2005. [Xinhua]
About 1,100 chickens were killed in the latest outbreaks, which were reported to the provincial health authorities on November 6.
The National Avian Influenza Reference Laboratory confirmed yesterday that the latest cases involved the deadly H5N1 strain of bird flu.
Local governments have culled about 500,000 poultry within a 3-kilometre radius of the outbreak sites to prevent the spread of the deadly virus.
On Tuesday, Premier Wen Jiabao called for intensified efforts to fight bird flu as the country faces a "very serious situation."
Bird flu has not been brought under total control and is likely to spread, Wen warned on Tuesday during an inspection tour of Heishan County in Northeast China's Liaoning Province.
He urged the local governments to focus on the prevention of human infections, a task he described as "arduous."