Asia terror chief believed killed in Indonesia
(AFP)
Updated: 2005-11-10 09:16
A man suspected of being Azahari Husin, one of Asia's top terror suspects, blew himself up after being cornered by police but Indonesian authorities will have to wait at least a day to identify the body, a lawmaker and police said.
Azahari, a Malaysian from the Al-Qaeda-linked Jemaaah Islamiyah (JI) militant network and known as the "Demolition Man", was strongly suspected of being one of three men who detonated explosives and killed themselves after a shootout with police in the sleepy town of Batu, East Java province.
If confirmed, his death would be a major coup for Indonesian security services against JI -- which was suspected in another deadly bombing on the resort island of Bali last month.
National police chief General Sutanto told a press conference that he could not immediately say whether one of the three was Azahari, who is suspected of masterminding a string of deadly blasts in Indonesia and supplying bombs used in the 2002 Bali bombings
"Information like that we can only ascertain tomorrow (Thursday)," he said when reporters asked him to comment on reports of the death of Azahari.
"We will take every effort to identify the three, including through the use of DNA and showing the bodies to witnesses who know Azahari."
However Djoko Susilo, a member of parliament who spoke with Sutanto at the scene of the shootout, told AFP that based on the information he was given: "I am 95 percent convinced that Azahari is already dead there.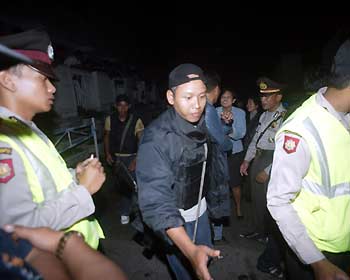 Indonesian police guard near the scene of firefight in the town of Batu Malang in East Java November 9, 2005. One of Southeast Asia's most wanted Islamic militants, Malaysian Azahari bin Husin, was killed during a shoot-out with Indonesian police in East Java province on Wednesday, the national police chief said.[Reuters]

"But scientifically we still need to ascertain the death with a post mortem, or more precisely through DNA testing because the bodies inside were in bits and pieces."

When police chief Sutanto was asked how he knew Azahari might be among the three, he told reporters: "From information obtained from one of the perpetrators whom we have arrested in Semarang earlier today."

He identified that suspect by the initials CH.

A police source in Semarang, the capital of neighbouring Central Java province, told AFP that three people were arrested about half an hour before the 3:30pm (0830 GMT) raid in Batu.