Yahoo China back to search engine market
By Li Weitao (China Daily)
Updated: 2005-11-10 06:08
Yahoo China, which has been acquired by Chinese e-commerce company Alibaba.com, is refocusing on the search engine business to tap into a fast-growing and lucrative market.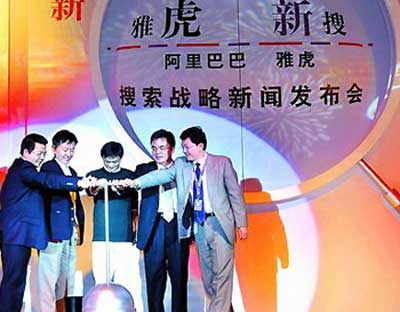 Jack Ma, Alibaba's founder and chairman (center) launched Yahoo! China's new online search service. Alibaba.com Inc announced yesterday in Beijing it would redesign Yahoo! China's Webpage to focus on searches to compete with rivals Baidu.com Inc and Google Inc. [Xinhua]
Ma Yun, chairman and chief executive officer of Alibaba, said the top priority for Yahoo in China is to build the best search engine for the Chinese community instead of an Internet portal like NASDAQ-listed Sina Corp and Sohu.com.
"From today onwards, in China Yahoo means a search engine and a search engine means Yahoo," Ma said yesterday.
Yahoo, since entering China, has made several amendments to its strategy.
The US Internet giant had originally focused on the search engine business since entering China seven years ago, but it has been swaying between the search engine, advertising, and the portal before transferring China operations to Alibaba in August along with paying US$1 billion for a 40-per-cent stake in Alibaba.
Ma said that Yahoo needs to return to the search engine market since it promises the biggest opportunity.
"We have received all the cash (of US$1 billion) from Yahoo and most of the money will be invested in the search engine business," he said.
Yahoo has moved more than 2,000 computer servers from the United States to Beijing as part of its localization efforts in the search engine market in China.
Ma expects another 5,000 servers to be moved to China next year.
Yahoo can now search 1 billion Chinese-language web pages, compared to 250 million before the acquisition, Ma added.
The refocus on the search engine business underlines a growing desire by Alibaba to build an Internet empire in the Chinese community.
Alibaba already has more than 9 million registered users in the B2B (business to business) e-commerce sector.
And Taobao.com, an online auction house operated by Alibaba, now has more than 11 million registered users.
Ma hoped Alibaba's leading advantage in the e-commerce sector can be combined with Yahoo's search engine, which could give a big boost to the firm's business growth.
"The search engine offering will be crucial to the development of the e-commerce sector," he said.
Additionally, the e-mail, instant messaging and online payment services offered by Yahoo will also be a big attraction for Chinese Internet users.
The competitiveness in China's search engine market has been intensifying this year with Microsoft setting up a technical centre for Internet search and Google formally launching its China operations.
According to the Shanghai-based research house iResearch, NASDAQ-listed Baidu.com was the largest search engine provider in China, controlling 37.4 per cent of the market in the first quarter of this year.
Yahoo, combined with 3721.com and Yisou.com, both owned by Alibaba, had a 32.2 per cent share, followed by Google with a 19.1 per cent share.
(China Daily 11/10/2005 page10)