Hostage stand-off ends in suicide blast
By Jiang Zhuqing (China Daily)
Updated: 2005-11-10 05:51
A man who took four women college students hostage in a school dormitory blew himself up early yesterday morning, ending a three hour siege.
The suicide blast happened after police had secured release of the hostages and were preparing to storm the dormitory at a school in Zhengzhou, Central China's Henan Province.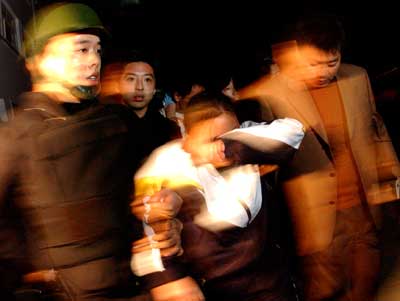 A hostage, injured in the explosion detonated by the hostage-taker, is carried out of a women's dormitory at a college and sent to hospital for treatment in Zhengzhou, Central China's Henan Province November 8, 2005. [newsphoto]
As well as killing the kidnapper, the explosion injured one of the hostages and a police officer.
The other three hostages were unhurt, the Zhengzhou-based Dahe Daily reported.
The kidnapper has not yet been identified.
At 10:50 pm on Tuesday, police in Zhengzhou, the provincial capital, received a call from the man, who said he was holed up in the women's dormitory of the Zhengzhou School of Water Conservancy.
He demanded 1 million yuan (US$123,000) ransom for the release of four student hostages.
Police later confirmed that the kidnapper, with explosives strapped to his body, had abducted four women students and was holding them on the sixth floor of the school's women's dormitory.
Within an hour, a rescue command centre was set up at the school under the leadership of Yao Daixian, head of Zhengzhou police bureau.
Several negotiators were dispatched to the dormitory to negotiate for the release of the hostages.
At around half-past-midnight, more than 20 riot police and a team of fire fighters arrived on site.
After several rounds of negotiations, the kidnapper refused to drop his demands.
Shortly before 2 am, the command centre put into action a plan to rescue the hostages and take out the kidnapper.
Starting at 2:15 am, fire fighters opened a 10 centimetre square hole in the dormitory door, and ransom money was pushed through.
The hostages were then allowed to move to the doorway of the dormitory.
But, at around 2.30 am, before they could make good their escape, a huge explosion shook the building.
Police, who had been preparing to storm the dormitory, rushed into the building and guided the hostages to safety.
One of the hostages was hurt in the blast, receiving injuries to her arms.
Yang Yuzhang, deputy director of the Zhengzhou Police Bureau declared the operation a success.
(China Daily 11/10/2005 page3)