Blair: China's rapid development not a threat
(Xinhua/AFP)
Updated: 2005-11-10 06:14
Chinese President Hu Jintao and British Prime Minister Tony Blair reached vital consensus on Wednesday on promoting the existing comprehensive strategic partnership to a higher level.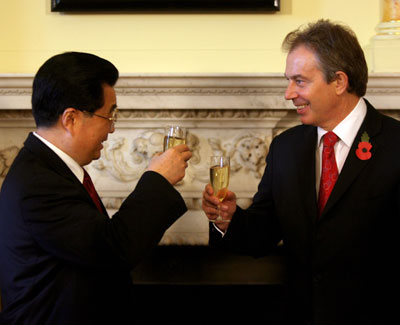 Britain's Prime Minister Tony Blair (R) toasts with China's President Hu Jintao in 10, Downing Street in London November 9, 2005. [Reuters]
During their talks at No. 10 Downing Street, the two leaders had thorough exchanges and expressed their satisfaction over the good momentum of China-British relations.
Hu said the establishment of strategic partnership between China and Britain in 2004 ushers in a new stage for the development of bilateral relations. Since then, the two sides have sustained high-level political dialogues and consultations on sustainable development. Trade and economic co-operations have yielded new results and the two countries have maintained good coordination and collaboration.
Hu reiterated that China attaches great importance to its relations with Britain, and China's development is an opportunity to Britain. He suggested that the two countries regard bilateral relationship from a long-term and strategic perspective by keepingthe current momentum of high-level exchanges, particularly the annual meetings of the leadership and foreign ministers, as well as exchanges between legislative institutions and political parties.
Political dialogue and co-operation on global issues such as sustainable development, poverty alleviation, climate change, freetrade should also be enhanced within the multi-lateral framework of the United Nations, the World Trade Organization and Asia-Europe Meeting, Hu said.
The Chinese president also suggested that bilateral co-operation be further expanded from the current priority areas of trade and investment, finance, energy, science and technology, education and culture, environmental protection and sustainable development, to cover for instance bird flu prevention and the preparation for the Olympics.
In addition, Hu suggested that the China-British task forces play a more active role to address common concerns on the basis of mutual respect, equality and mutual benefit in a bid to boost understanding and narrow differences.
Blair on his part, fully recognized the strong momentum in bilateral relations, saying Hu's important visit will definitely push forward the overall cooperation between the two countries.
He said his successful visit to China in September has reassured that China's rapid development is not a threat, but an important opportunity.
On China-EU relations, Hu said, a closer overall strategic partnership is of major significance to world peace, stability and prosperity.
"We hope to see European Union plays a more important role on issues pertaining to Europe and the world as a whole," Hu noted.
Blair said the EU attaches much importance to further its relations with China, and will make further efforts to address issues of China's concerns.