Jolie & Becks, gays 'dream partners'
(AP)
Updated: 2005-11-09 16:38
Hollywood actress Angelina Jolie is reportedly "a favourite among gay women" as the celebrity they would "most like to marry', claims the findings of a poll conducted by Gaydar Radio.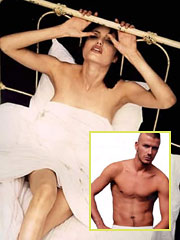 The Tomb Raider beauty, who bagged 32 per cent of the votes, beat fellow actresses Jodie Foster and Charlize Theron, to top the list of the woman most lesbians would like to walk down the aisle with.
England captain David Beckham, 30, topped the males' side of the poll as the soccer star pulled in 19% of the gay male vote, and was only slightly ahead of actor Vin Diesel and singer Robbie Williams, each grabbing 18 per cent of the gay males' vote.
Surprise entries included Weakest Link toughnut Anne Robinson with a 3% vote share and bearded movie veteran Tom Selleck, who attracted 4%.
"I think it's great that as well as the world's most attractive people getting into our top ten we are also seeing the likes of Tom Selleck in there too," The Sun quoted Robin Crowley, Station Manager of Gaydar Radio as saying.
"But it was something of a surprise to me that Anne Robinson has such a female following. It must be her dominatrix persona the girls like!" he added.