North Korea nuclear talks open in Beijing
(AP)
Updated: 2005-11-09 15:51
BEIJING - New talks aimed at persuading North Korea to give up its nuclear programs opened Wednesday in Beijing, and the chief Chinese envoy called for negotiators to start work on the contentious details of how the North will disarm and what it will get in exchange.

Tensions between the United States and North Korea, however, were already building. North Korea criticized President Bush for calling North Korean leader Kim Jong Il a "tyrant," saying the remark put the prospects of the talks in doubt.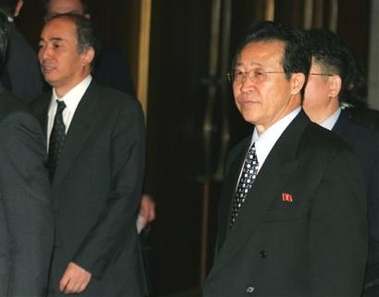 Japanese lead negotiator Kenichiro Sasae, left, and North Korean envoy, Kim Gye Gwan, right, walk into a meeting room at the opening session of the fifth round of six party talks in Beijing's Diaoyutai State Guesthouse Wednesday Nov. 9, 2005. [AP]

North and South Korea, the United States, Japan, Russia and China are participating in the fifth set of negotiations. They were expected to last three days before a recess to let diplomats attend an Asia-Pacific economic forum in South Korea.

The Chinese delegate, Wu Dawei, whose government appealed in advance to the participants to be ready to make progress in the slow-moving talks, called on negotiators to be flexible and pragmatic.

In an opening statement, Wu called on all sides to "put forward proposals and ideas so that we will be able to work out an implementation plan that is acceptable to all sides at an early date."

On Tuesday, South Korea's Deputy Foreign Minister Song Min-soon said he met with Kim Gye Gwan, the North's envoy, to discuss the implementation of a joint statement issued at the end of the last round of talks in September.