Restive France declares state of emergency
(AP)
Updated: 2005-11-09 07:53
The French government declared a state of emergency Tuesday after nearly two weeks of rioting, and the prime minister said the nation faced a "moment of truth."
The extraordinary security measures, to begin Wednesday and valid for 12 days, clear the way for curfews to try to halt the country's worst civil unrest since the student uprisings of 1968.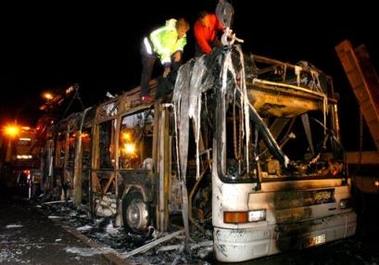 A rescuer, left, and a tow truck driver attach a truck's hook to a charred bus in Bassens, near Bordeaux, southwestern France, late Tuesday Nov. 8, 2005. [AP]
Prime Minister Dominique de Villepin, tacitly acknowledging that France has failed to live up to its egalitarian ideals, reached out to the heavily immigrant suburbs where the rioting began. He said France must make a priority of working against the discrimination that feeds the frustration of youths made to feel that they do not belong in France.
"The effectiveness of our integration model is in question," the prime minister told parliament. He called the riots "a warning" and "an appeal."
Despite his conciliatory tone, Villepin said riot police faced "determined individuals, structured gangs, organized criminality," and that restoring order "will take time." Rioters have been using mobile phone text messages and the Internet to organize arson attacks, said police, who arrested two teenage bloggers accused of inciting other youths to riot.
"We must be lucid: The Republic is at a moment of truth," Villepin said.
Lawmakers at the impassioned parliamentary debate also spoke frankly about France's failings. But criticism of the government extended well beyond the country's borders.
Images of French teenagers from north and west African immigrant families pelting riot police with stones and gasoline bombs — reminiscent of Palestinian youths attacking Israeli patrols — have struck chords in the Muslim world.
The Egyptian daily Al-Massaie referred to the riots as "the intefadeh of the poor." Arabic satellite networks have given lead coverage to the mayhem, with regular live reports. Newspapers have followed the story on inside pages, calling it a "nightmare" and a "war of the suburbs."
Arson attacks, rioting and other unrest have spread from the suburbs to hundreds of cities and towns — though acts of violence were down somewhat Monday night from the previous evening.