Hu visits London, Sino-UK ties get warmer
(China Daily/Reuters)
Updated: 2005-11-09 06:10
President Hu Jintao arrived in London Tuesday on an official visit to Britain at the invitation of Queen Elizabeth II, who greeted him warmly at a welcome ceremony.
In a written statement issued upon his arrival, Hu said he was looking forward to an in-depth exchange of views with British leaders on Sino-UK relations and major international and regional issues, as well as to meet British people from all walks of life.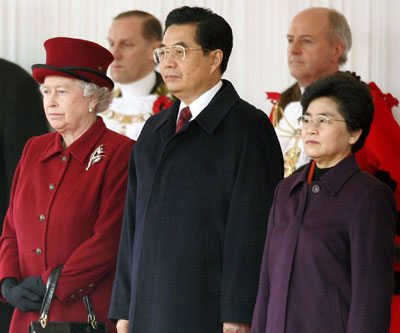 Britain's Queen Elizabeth (L) stands with China's President Hu Jintao (C) and his wife Liu Yongqing at Horse Guards Parade in London November 8, 2005. [Reuters]
"I hope that this visit will enhance mutual understanding and friendship, promote bilateral co-operation in all fields and continue to push forward the China-UK comprehensive strategic relationship," the president said.
Hu said that the bilateral relationship has maintained a sound momentum, and co-operation in various fields has produced fruitful results.
Relations between China and Britain have made good headway, said Chinese Ambassador to Britain Zha Peixin in an recent interview with Xinhua.
Hu is scheduled to meet British Prime Minister Tony Blair and parliament leaders today. They are expected to hold talks on trade, global security, climate change, and co-operation at the United Nations.
Bilateral trade reached US$19.7 billion in 2004, an increase of 37 per cent over the previous year, according to official statistics. In the first half of this year, the figure grew by 30 per cent year on year.
Britain is China's third-largest trading partner and top investor in the European Union. It currently holds the rotating EU presidency, and is the first stop on Hu's European and Asian trip.