Pentagon issues new rules on detainees
(AP)
Updated: 2005-11-09 00:47
Thrown on the defensive by prisoner abuse scandals in Iraq and Guantanamo Bay, the Pentagon has issued a broad new directive mandating that detainees be treated humanely and has banned the use of dogs to intimidate or harass suspects.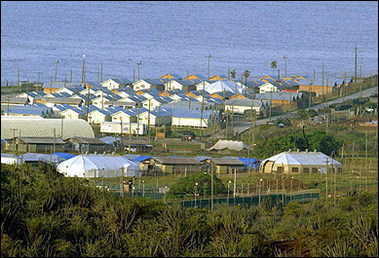 A view of the US Naval Base of Guantanamo in Cuba seen in a file photo from 2002. The United States has invited three UN human rights rapporteurs to its controversial Guantanamo Bay, Cuba detention center to show that detainees there 'are treated humanely,' the State Department said. [AFP]
The directive, provided by the Defense Department, pulls together for the first time all of its existing policies and memos covering the interrogation of detainees taken in the war against terrorism. It comes as Congress is considering a ban on the inhumane treatment of U.S. prisoners and Democrats have launched a long-shot effort to create a commission to investigate abuse.
While the policy maps out broad requirements for humane treatment and for reporting any violations, it is just the first step in the development of a new Army manual that would more precisely detail which interrogation techniques are acceptable and which are not.
The only specific prohibition in the directive says that dogs used by any government agency "shall not be used as part of an interrogations approach or to harass, intimidate threaten or coerce a detainee for interrogations purposes."
Investigations into detainee abuse at the Abu Ghraib facility in Iraq found that unmuzzled dogs were used to intimidate inmates.
The new policy governs the treatment of any detainee under Defense Department control. It leaves open the possibility that prisoners in DOD facilities, such as Guantanamo or Abu Ghraib, could at times be considered under the control of another agency — such as the Central Intelligence Agency — and therefore would not be subject to the directive's policies.