Roche halts Tamiflu sales in China
(AP)
Updated: 2005-11-08 00:08
Swiss drug-maker Roche said Tuesday it had stopped selling the antiviral drug Tamiflu in China and was turning over supplies to the government as local officials were ordered to prepare to treat possible human cases of bird flu.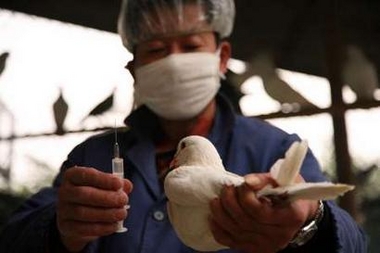 A Chinese man gives injection to a pigeon in Hangzhou east China Zejiang province November 8, 2005. Chinese President Hu Jintao will call for joint efforts to curb bird flu at an upcoming summit of Asia-Pacific leaders, a government spokesman said on Tuesday. [Reuters]
Tamiflu supplies are "now being transferred to China's Ministry of Health for centralized allocation and distribution," the Chinese arm of Roche Holding AG said in a written statement. Sales were halted in China on Nov. 1, it said.
There is no approved human vaccine for bird flu, which is almost always caught from close contact with infected birds. But Tamiflu is one of the few drugs believed to be effective against bird flu.
In the event of a possible human flu pandemic, Roche said, "the government is in the best position to handle rapid response and distribution."
The company didn't say how much Tamiflu it turned over to the government or whether it would be compensated.
Concerns that private suppliers might be hoarding Tamiflu have prompted Roche to limit sales in other countries, including the United States, Switzerland, Germany and Canada.
The World Health Organization advises governments to keep enough antiviral drugs and regular human flu vaccines for at least 25 percent of their populations.
China hasn't reported any infections in humans from the virulent H5N1 strain of the virus, which has killed at least 62 people elsewhere in Asia. But health officials say a case is inevitable if China can't stop repeated outbreaks in poultry. Authorities fear that H5N1 could mutate into a form that is easily passed from human to human, sparking a possible pandemic.
Health Minister Gao Qiang ordered local officials to step up efforts to prevent human infections and preparations to treat possible cases, Xinhua News Agency said.
In a nationwide video conference, Gao told officials on Monday "to strengthen work at three key links, namely monitoring, control and treatment," Xinhua said.
The government has ordered increasingly strict preventive measures.
On Monday, authorities closed live poultry markets in Beijing and were going house-to-house in the Chinese capital seizing chickens and ducks raised in private homes.