Chilean judge denies Fujimori's request
(AP)
Updated: 2005-11-08 23:11
Former Peruvian President Alberto Fujimori on Tuesday lost a bid to be released from jail while he fights extradition to Peru to face charges of corruption and human rights abuses during his decade-long regime.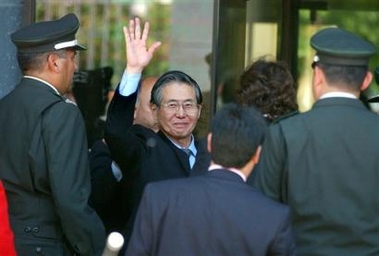 Former Peruvian President Alberto Fujimori waves as he arrives at judicial police academy in Santiago, Chile, Monday, Nov. 7, 2005. Fujimori was arrested in Chile Monday on charges at home involving corruption and massacres, as he attempted to return to Peru to run for re-election after five years as a protected exile in Japan. [AP]
Justice Orlando Alvarez said Fujimori, who is being held at an academy for corrections officers, must remain under arrest as Peru pursues his extradition on 21 corruption and human rights charges.
Fujimori, 67, was arrested at his Santiago hotel early Monday, hours after his surprise arrival from Japan, where he had remained in a protected exile for five years after resigning the Peruvian presidency amid a corruption scandal.
Fujimori fled to Japan in November 2000 as his 10-year autocratic government crumbled. He faces 21 charges ranging from abuse of power and corruption to sanctioning a paramilitary death squad accused of two massacres of suspected rebel collaborators in which 25 people were killed, including an 8-year-old boy.
Peruvian prosecutors are seeking a 30-year sentence and a $28.6 million fine for his alleged role in the death squad killings, the most serious charge he faces.
Peruvian authorities have 60 days to ask for Fujimori's extradition.