President Hu arrives in Britain on state visit
(Xinhua)
Updated: 2005-11-08 22:12
Chinese President Hu Jintao arrived here Tuesday on a state visit aimed at promoting the comprehensive strategic partnership between China and Britain.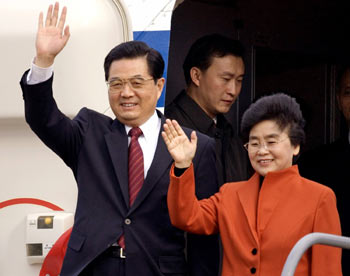 President Hu Jintao and his wife Liu Yongqing wave to the crowd, after arriving in Britain for his three-day state visit, at Heathrow airport in London November 8, 2005. Britain and China will seek this week to expand cooperation on cleaner technologies to tackle global warming during a state visit to London by Hu. [Reuters]
During his stay in the British capital, President Hu is expected to meet British leaders to explore ways on how to further develop the comprehensive strategic partnership established between the two countries last year.
In recent years, the Sino-British relations have shown good momentum of development with exchanges of high-level visits, increases in bilateral trade and investment, and expansion of cooperation in various fields.
Britain remains the biggest European Union investor in China and the third largest trading partner of China within the European bloc.
In 2004, the volume of trade between the two countries reached 19.7 billion US dollars, an increase of 37 percent over the previous year. In the first eight months of this year, bilateral trade totaled 15.4 billion dollars, or up 27.4 percent over the same period of 2004.
Hu is scheduled to leave London for Berlin Thursday to continuehis four-nation trip, which will also take him to Spain and South Korea.
Hu will also attend the Economic Leaders' Meeting of the Asia-Pacific Economic Cooperation (APEC) scheduled for Nov. 18-19 in Busan, South Korea.