Another Saddam co-defendant's lawyer slain
(AP)
Updated: 2005-11-08 21:29
Three gunmen in a speeding car killed a lawyer for a co-defendant in Saddam Hussein's trial and wounded another Tuesday in Baghdad, a member of the defense team and police said. It was the second assassination of a Saddam defense team lawyer in less than a month.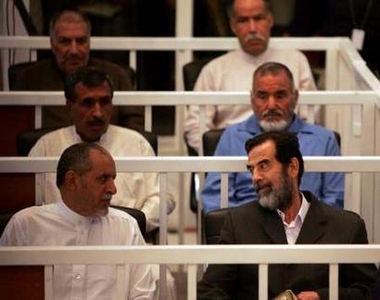 Saddam Hussein (R) speaks to Awad al-Bander as their trial begins in a heavily fortified courthouse in Baghdad's Green Zone in this October 19, 2005 file photo. Gunmen opened fire on a car carrying two lawyers defending some of Saddam Hussein's co-defendants in a trial for crimes against humanity, killing one and wounding the other, police and defence team sources said on November 8, 2005.Third row, (R-L) Barzan Ibrahim and Ali Dayim Ali. [Reuters]
Adel al-Zubeidi, who was representing former Iraqi Vice President Taha Yassin Ramadan, was shot to death and attorney Thamir al-Khuzaie was wounded in the ambush in the predominately Sunni Arab neighborhood of Adil, according to lawyer Khamees Hamid al-Ubaidi.
Saddam's main lawyer, Khalil al-Dulaimi, blamed the government for Tuesday's attack, telling Al-Jazeera television that the shooting was carried by "an armed group using government vehicles."
"The aim of these organized attacks is to scare Arab and foreign lawyers," al-Dulaimi said. "We call upon the international community, on top of them the Secretary-General of the United Nations, to send an investigative committee because the situation is unbearable."
He called for moving Saddam and his colleagues into a neutral country. Al-Dulaimi said defense lawyers do not recognize the trial's next date which comes on Nov. 28.
Police Lt. Khalid Hassan said the two lawyers were driving through the Adil neighborhood about 12:45 p.m. when an Opel with a driver and three masked gunmen pulled alongside and sprayed their car witth automatic weapons fire.
Al-Zubeidi also represented Abdullah Kazim Ruwayyid, a former Baath party official. Al-Khuzaie represents Saddam's half-brother, co-defendant Barazan Ibrahim.
Saddam and seven others have been charged with the 1982 killings of Shiite villagers in Dujail, a town north of Baghdad, following an assassination attempt. The trial opened Oct. 19 and was suspended until Nov. 28 to allow the defense time to prepare its case.