China to call for bird flu cooperation at APEC
(Reuters)
Updated: 2005-11-08 20:33
Chinese President Hu Jintao will call for joint efforts to curb bird flu at an upcoming summit of Asia-Pacific leaders, a government spokesman said on Tuesday.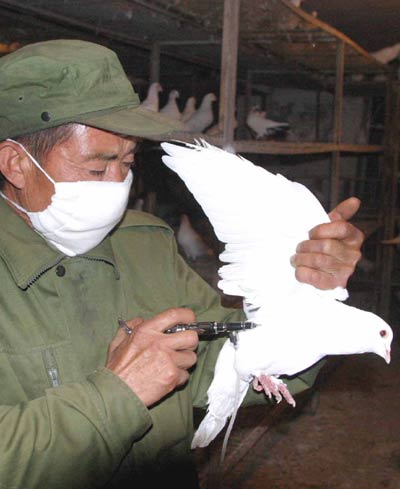 A Chinese health worker vaccinates Monday a pigeon against bird flu in a house for pigeons hovering over the Quancheng Square each day in Ji'nan, East China's Shandong Province. China is on alert against the avian influenza. [Xinhua]
Hu is scheduled to attend the summit of the annual Asia-Pacific Economic Cooperation (APEC) forum in the South Korean port city of Pusan from Nov. 18-19.
"China will propose APEC strengthen cooperation in areas like surveillance, prevention and control measures, emergency response and information sharing to tackle newly emerged infectious diseases," Foreign Ministry spokesman Liu Jianchao told a news conference, referring primarily to bird flu.
The H5N1 strain of bird flu has infected 122 people in Asia and killed 62 since it originated in Hong Kong in 1997.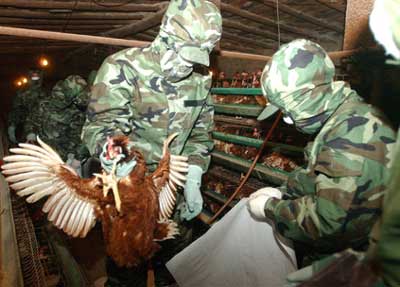 Soldiers from the Liaoning Division of the Chinese People's Armed Police Forces help cull chickens on Saturday in Northeast China's Liaoning Province, which had an outbreak of bird flu in Heishan County. More than 1 million heads of poultry were culled after the outbreak the fourth case reported in China in a month. [Xinhua]
Millions of farmers live in close proximity with poultry in Asia.
There have been four outbreaks in China in the last month.