Negotiators arrive in Beijing for North Korean nuclear talks
(AFP)
Updated: 2005-11-08 11:38
Negotiators for six-party talks aimed at dismantling North Korea's nuclear program were arriving in Beijing but there was little hope of major progress during the upcoming round.
The first session of the fifth round of talks will only last for three days, while the following phase of the round will start by the end of the year, China's vice foreign minister Wu Dawei told journalists.
The talks, involving China, the two Koreas, the United States, Russia and Japan, begin Wednesday in central Beijing.
It will be "rather difficult" to make progress in the talks because big differences remain between parties over the order of implementation of an agreement reached at the last round in September, Wu said.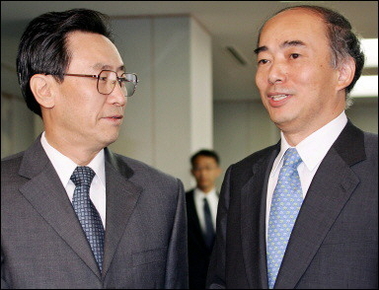 Chinese Vice Foreign Minister Wu Dawei (L) chats with Kenichiro Sasae, Director General of Japan's Foreign Ministry, before earlier talks between the two on North Korea's nuclear program. [AFP]

The six sides issued a joint statement of purpose after the last round of talks in September, agreeing to verifiably scrap North Korea's nuclear programs in exchange for energy assistance and other benefits.

Now discussions are expected to focus on the technically complex issue of scrapping the nuclear programs in a manner consistent with the agreement, which called for "commitment-for-commitment, action-for-action," diplomats said.

The United States wants North Korea to dismantle its nuclear program immediately, while Pyongyang is holding out for benefits from Washington up front before surrendering its bargaining chip.

South Korean chief negotiator Song Min-soon, and the North Korean delegation, had already arrived in Beijing while delegates from the other nations were expected to arrive later.

China has asked that the first phase of the next round end by Friday so that diplomats at the talks can also attend the Asia Pacific Economic Cooperation (APEC) leaders' summit in South Korea on November 18 and 19.

The long-running issue emerged in late 2002 when the United States accused North Korea of engaging in a covert uranium enrichment program, a move that violated a bilateral 1994 agreement to freeze its nuclear programs.