EU agrees to monitor Gaza-Egypt crossing
(AP)
Updated: 2005-11-08 09:32
The European Union agreed Monday to monitor a Gaza-Egypt border crossing that serves as the main gate to the world for Palestinians in the coastal strip.
The deployment of foreign inspectors at the Rafah terminal is a key element of an emerging Israeli-Palestinian deal on new border arrangements following Israel's pullout from the Gaza Strip in September.
EU foreign ministers agreed at a meeting in Brussels, Belgium, to "assume the third party responsibility" for monitoring the border crossing, Javier Solana, the EU's security affairs chief, told reporters as a delegation from the bloc toured the border area.
Israel closed Rafah just before the withdrawal, and the terminal has opened only sporadically since then to allow passage of hardship cases.
Solana did not give details of the conditions under which the EU monitors would supervise border traffic, saying Israeli and Palestinian negotiators were discussing the matter Monday. The Palestinians hope to reach agreement by Nov. 15.
The Palestinians want the Europeans to serve as advisers, while Israel wants the foreigners to be in charge, with the authority to carry out arrests or confiscate luggage, if necessary. Israel is concerned about an influx of weapons and militants.
Palestinian Cabinet Minister Mohammed Dahlan accused Israel of trying to maintain a presence in Gaza despite its withdrawal.
"We don't want any (Israeli) foothold here," Dahlan said. "What we want is freedom of movement for passengers in and out of Gaza, and freedom of movement for goods out of Gaza to Egypt."
Touring the border, Marc Otte, the EU's Mideast envoy, said: "We are not here to control anybody. We are here to help and assist."
Reopening Rafah under Palestinian control is a crucial sovereignty issue for Gazans as they assert authority over their borders for the first time. Israeli-Palestinian agreements on the crossings are also necessary to rebuild impoverished Gaza.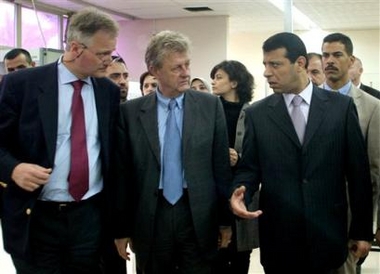 Palestinian Cabinet Minister Mohammed Dahlan, right, speaks with Mark Otte, center, the European Union envoy to the Middle East and another EU official during a tour of the Rafah border crossing in the southern Gaza Strip, Monday, Nov. 7, 2005. A European Union delegation toured the Gaza-Egypt border Monday as part of negotiations with Israel and the Palestinians on the role of European inspectors at the Rafah terminal. [AP]

The deployment of foreign inspectors in Rafah would set an important precedent that could be copied at a future airport and seaport in Gaza. Israel wants the Europeans there to ensure that militants and weapons do not cross into Gaza.

European officials met separately Sunday with Israeli and Palestinian officials. Palestinian negotiator Saeb Erekat said the Europeans told him the inspectors were ready to fulfill whatever role agreed to by the Israelis and Palestinians.

Later Monday, international envoy James Wolfensohn was to chair a three-way meeting with Israeli and Palestinian officials to try to resolve the remaining disputes over Rafah. During his week-long stay, Wolfensohn also hopes to make progress on other issues, including improvements at crossings from Gaza into Israel.

A key issue at Monday's meeting will be Israel's demand to monitor Rafah long-distance, via computer hookup and closed-circuit TV, Erekat said. The Palestinians reject the demand, saying the presence of European inspectors should be sufficient.

Erekat said he hoped an agreement on Rafah could be reached by the end of the week.

Sharon told parliament's Defense and Foreign Affairs Committee that it was important for Israel to monitor who is passing through Rafah, said Ran Cohen, a lawmaker from the opposition Yahad Party. Sharon told lawmakers that Israel must retain the right to keep monitoring, and that Israel was preparing alternate crossings under Israeli control if an agreement on Rafah could not be reached, Cohen said.

Palestinian workers at Rafah set up checkpoints Monday and hooked up security cameras to monitor the approaches to the terminal. Dozens of Palestinian policemen took up positions along the perimeter wall and at the crossing's main gate.

Also Monday, EU foreign ministers agreed to train Palestinian police forces for three years, beginning Jan. 1. The mission is to be the 25-nation bloc's first security role in the region as part of international peace efforts.

The ministers also also expressed concern about continued violence in Gaza and the West Bank, calling on the Palestinian Authority "to take full control of law and order in the occupied territories" and urging Israel to stop its settlement program in East Jerusalem and "to cease all discriminatory treatment of Palestinians." ... especially concerning work permits, access to education and health services."

Sharon, meanwhile, told lawmakers Monday that if Hamas militants participate in Palestinian legislative elections, Israel would not coordinate with the Palestinians on the vote, and would make it difficult for Hamas to campaign, said the prime minister's spokesman Asaf Shariv.

The Palestinians say Israeli roadblocks throughout the West Bank must be lifted ahead of the Jan. 25 election to let candidates campaign freely and permit voters to travel to rallies and the polls.

Israel has demanded for months that Palestinian leader Mahmoud Abbas disarm Hamas if it is to take part in the election.

Abbas has repeatedly refused, saying such a confrontation would provoke civil war. Instead, he has brokered a shaky truce with militants not to attack Israel and has worked to bring them into Palestinian political life by having them field candidates in the parliamentary election.