US charges five Guantanamo detainees with war crimes
(Reuters)
Updated: 2005-11-08 09:27
Five foreign terrorism suspects at the U.S. military prison in Guantanamo Bay, Cuba, have been charged with war crimes and will face military trials, bringing to nine the number charged at Guantanamo to date, the Pentagon announced on Monday.
Two of the five "enemy combatants" facing charges are from Saudi Arabia, the Pentagon said. The other three are from Algeria, Ethiopia and Canada. Nearly 500 detainees are being held at the Navy prison in Cuba.
The charges were announced just hours after the Supreme Court said it would decide whether President George W. Bush has the power to create military tribunals to put Guantanamo prisoners on trial for war crimes, an important test of the administration's policy in the war on terrorism.
The five suspects face charges ranging from murder to attacking civilians, the Pentagon said. The Canadian, a teen-ager, is accused of killing a U.S. soldier in Afghanistan.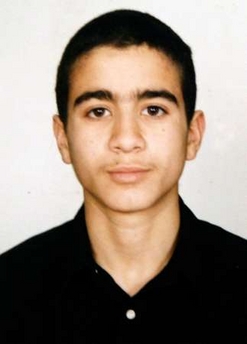 A family portrait of Omar Khadr, who is detained by United States forces at Guantanamo Bay, is shown at a press conference in Toronto in this February 9, 2005 file photo. [Reuters/file]

No dates have been set for trials of the five by U.S. military commissions, which critics have said do not give detainees the same rights as civilian courts.

Hundreds of other detainees held at Guantanamo, most of them arrested in Afghanistan and many held for more than three years, have not yet been charged. The Guantanamo facility opened in January 2002, just months after the September 11, 2001, attacks on the United States.

The Bush administration has come under strong international criticism, including from the International Committee of the Red Cross, for holding prisoners for years without charging them. The administration counters that the terror suspects do not have rights guaranteed under the Geneva Conventions.

The Pentagon on Monday identified the five charged as Ghassan Abdullah al Sharbi and Jabran Said bin al Qahtani of Saudi Arabia, Sufyian Barhoumi of Algeria, Binyam Ahmed Muhammad of Ethiopia and Omar Khadr of Canada.

CANADIAN TEEN-AGER CHARGED

Khadr, a Canadian who recently turned 19 years old, was just 15 when he was sent to Guantanamo and is accused of killing a U.S. soldier in Afghanistan and with attempted murder.

The other four are charged with conspiracy to commit murder, attacks on innocent civilians, destruction of property and terrorism.

Barbara Olshansky, an attorney with the Center for Constitutional Rights who has represented Khadr and other Guantanamo prisoners, called it shocking that the charges were announced on the day the Supreme Court said it would review the legality of military tribunals.

"The fact that they've seen fit to designate people for trial by military commission when the very constitutionality of the tribunal is up before the Supreme Court just evinces the most blatant disdain for the judicial branch and the separation of powers principle," Olshansky said.

Khadr is the son of suspected al Qaeda financier Ahmed Said Khadr, who was born in Egypt and jailed in Pakistan in 1996 for alleged involvement in an Egyptian Embassy bombing before being freed at the request of Jean Chretien, Canadian prime minister at the time.

The elder Khadr was killed in a 2003 shootout with Pakistani security forces at an al Qaeda compound.

The four detainees charged earlier include Australian David Hicks, two Yemenis and a Sudanese.

Hicks' trial, put on hold last year because of federal court rulings over Guantanamo, is set to resume on November 18. Dates have not been set for trials of the other three men.

Spurning a request by U.N. human rights investigators, U.S. Defense Secretary Donald Rumsfeld said last week that the United States would not allow them to meet with detainees at Guantanamo.

Rumsfeld also told a Pentagon news conference that prisoners at the naval base were staging a hunger strike that began in early August as a successful ploy to attract media attention.

The military said last week that 27 detainees were engaging in the hunger strike, including 24 receiving forced-feedings. But detainees' lawyers estimated that about 200 were taking part and that the strike was a protest of the prisoners' conditions and lack of legal rights.