US, China expected to sign textile deal today
(Reuters)
Updated: 2005-11-08 09:05
WASHINGTON - The United States and China are expected to sign a three-year agreement on Tuesday reining in China's booming clothing and textile shipments to the United States, a congressional aide said on Monday.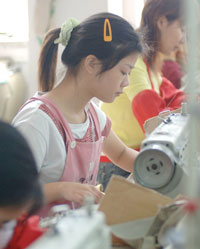 Workers sew clothes at a garment factory in Hefei, Anhui Province in this undated photo. It is reported China and the US have reached an agreement on China's clothes exports to the US. [newsphoto]
US Trade Representative Rob Portman and Chinese Commerce Minister Bo Xilai are both in London for meetings related to world trade talks. They are expected to hold a bilateral meeting on Tuesday morning and sign the pact, said Carolyn Hern, a spokeswoman for Rep. Robin Hayes, a North Carolina Republican who has been a leading congressional advocate for such a pact.
"They are expected to sign it about 2 or 3 a.m. (EST) our time," Hern said. It's about 14:00 or 15:00 Beijing time.
A spokeswoman for the US Trade Representative's office would only confirm that Portman and Bo will hold a joint news conference on Tuesday morning in London.
A textile agreement would smooth over a rough spot in the US-China trade relationship before President George W. Bush visits Beijing the middle of this month.
China's exports of clothing and textile products to the United States jumped more than 50 percent in the first eight months of the 2005 to nearly $17.7 billion following the end of a global quota system on January 1.
That prompted US textile producers to seek protection under a "safeguard" provision of China's 2001 entry into the World Trade Organization. The measure allows WTO members to restrict the growth in imports from China to 7.5 percent annually when there is a market-disrupting surge.