Indian Foreign Minister resigns over Iraq report
(Reuters)
Updated: 2005-11-08 09:00
Indian Foreign Minister Natwar Singh resigned his post on Monday, becoming the first political casualty of an independent report into irregularities in the United Nations' oil-for-food programme for Iraq.
Prime Minister Manmohan Singh will take over his duties, a spokesman for the prime minister said. Natwar Singh will remain in the cabinet pending the outcome of inquiries, spokesman Sanjaya Baru said.
Former U.S. Federal Reserve chairman Paul Volcker said after a year-long investigation that politicians benefitted from the $64 billion oil-for-food programme for Iraq.
Both Natwar Singh and the Congress party were named in an annexe to the report detailing beneficiaries of oil allocations made by the government of former president Saddam Hussein.
While the report did not ascribe any motives for the allocations, witnesses in other similar transactions said politicians had been rewarded for backing the Iraqi government or an end to U.N. sanctions.
Singh has denied any wrongdoing and any involvement in oil deals with Iraq. A government statement said he asked the prime minister to relieve him of his portfolio.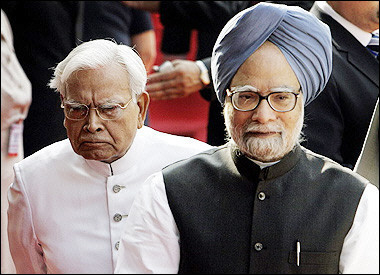 Indian Prime Minister Manmohan Singh (R) and Foreign Minister Natwar Singh (L) watch during the ceremonial reception for visiting Czech Republic President Vaclav Klaus at the Presidential Palace in New Delhi.[AFP]

Analysts do not see an immediate threat to the coalition government, led by the Congress party.

"I would think that probably this decision for Natwar Singh to step aside for a while is probably one of the quickest responses for any of the people on the (Volcker) list," Dr. Gareth Price, the head of the Asia Department of the Royal Institute of International Affairs, said in London.

"He is not going to threaten to bring down the government or anything like this if he is asked to step down briefly."

Others say the government's image has been marred by Singh staying in the cabinet.

"This is not at all acceptable. He should quit," political commentator Kuldip Nayar said. "He still remains a member of government and this is a wrong message."

"The Congress is also in the dock and should face this crisis squarely and with much more transparency," he added.