Four American soldiers killed in Baghdad suicide bomb attack
(AP)
Updated: 2005-11-08 08:50
A suicide bomber blew up his vehicle at a checkpoint south of Baghdad and killed four American soldiers Monday, the military said. The U.S. command also announced five soldiers from an elite unit were charged with kicking and punching Iraqi detainees.
The suicide attack came as U.S. and Iraqi troops battled al-Qaida-led militants for a third day in Husaybah, a town on the Syrian border that the military describes as a major entry point for foreign fighters. One Marine has died there, the U.S. command said Monday.
Al-Qaida in Iraq warned the Iraqi government to halt the offensive in Husaybah within 24 hours or see "the earth ... shake beneath their feet."
"Let them know that the price will be very heavy," said an Internet statement purportedly issued by al-Qaida, which has been blamed for some of Iraq's worst terror bombings. The warning's authenticity could not be confirmed.
Meanwhile, the Pentagon announced a troop rotation for Iraq that will number at least 92,000 soldiers through 2008, although officials said it likely will be considerably larger.
The four soldiers who died in the suicide attack were assigned to the Army's Task Force Baghdad, the U.S. command said, offering no further details. Earlier Monday, the military said a U.S. soldier died Sunday in a roadside bombing near Tikrit.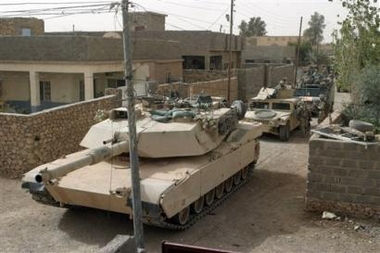 In this picture released by the US Forces, Monday, Nov. 7, 2005, a tank and vehicles of 3rd Battalion, 6th Marines operate as security while Marines and Iraqi Army soldiers clear houses during Operation Steel Curtain, in Husaybah, Iraq. [AP]

The deaths brought to at least 2,051 the number of U.S. military personnel who have died since the Iraq war started in 2003, according to an Associated Press count. At least 24 have died this month ¡ª most in roadside bombings.

The U.S. military said five soldiers from the Army's 75th Ranger Regiment were charged Saturday with assault, maltreatment and dereliction of duty during a Sept. 7 incident "in which three detainees were allegedly punched and kicked while awaiting movement to a detention facility." All five were reassigned to administrative duties, the statement said.

The Army said the alleged incident occurred in Baghdad and that the detainees, all men, suffered bruises "caused by striking with a closed and open hand, kicking, and hitting with an object described as a broomstick."

Allegations of prisoner abuse at the Abu Ghraib prison in Baghdad gained international notoriety in 2004. Nine Army reservists were convicted in that scandal.