15 terror suspects nabbed in Australia
(AP)
Updated: 2005-11-08 08:38
Police in Australia arrested 15 terror suspects in a string of raids early Tuesday and said they had foiled a major terror attack.
New South Wales Police Commissioner Ken Moroney said 400 officers were involved in raids in Sydney that captured six men, while nine more suspects were picked up in the southern city of Melbourne.
"I'm satisfied that we have disrupted what I would regard as the final stages of a large scale terrorist attack ... here in Australia," Moroney told Australian Broadcasting Corp. radio.
Police declined to give details of the likely target of the attack, but Victoria state police chief Christine Nixon said that next year's Commonwealth Games, to be staged in Melbourne, were not a target.
"It's the largest operation of counterterrorism that's ever been conducted in this country and it's taken us a long period of time," Nixon told the ABC.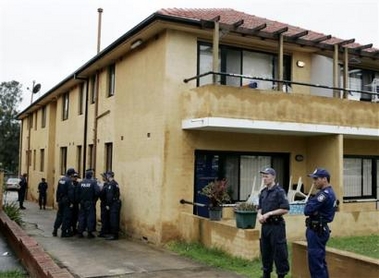 Police stand outside a western Sydney apartment block that was raided by police in the early hours of Tuesday, Nov. 8, 2005.[AP]

Moroney said chemicals which apparently could have been used to make bombs were found during the raids, which followed a 16-month investigation.

Rob Stary, a Melbourne lawyer who said he represented eight people arrested in the city, said most of his clients were charged with being members of a banned organization. The suspects were expected to appear in courts in Sydney and Melbourne later Tuesday.

Stary said one of those arrested in Melbourne was the outspoken radical Muslim cleric Abu Bakr, an Algerian-Australian who in the past has called Osama bin Laden a "great man."

Australia has never been hit by a major terror attack, but its citizens have repeatedly been targeted overseas, particularly in neighboring Indonesia.

Last year, the country's embassy in Jakarta was badly damaged by a suicide bomber, and dozens of Australians were killed in bombings in 2002 and last month on the Indonesian resort island of Bali.

Prime Minister John Howard's opponents say his strong support for the U.S.-led strikes on Iraq and decision to send troops there and to Afghanistan have made it inevitable Australia will be attacked.

Just last week, Howard warned that Australian authorities had received specific intelligence about an attack on the country.

Also last week, the Australian Parliament approved an amendment to the country's existing anti-terrorism laws that allows police to arrest people involved in the early stages of planning an unspecified terror attack. Nixon said some of the arrests Tuesday were made possible by the new legislation.

Federal treasurer Peter Costello said the arrests "really illustrate that the threat of terrorism is real, that we cannot be complacent about it."

"It's no consolation to wait until after an event and then try and pick up the suspects," he told the ABC.