France to impose curfews to quell rioting
(AP)
Updated: 2005-11-08 07:35
France will impose curfews under a state-of-emergency law and call up police reservists to stop rioting that has spread out of Paris' suburbs and into nearly 300 cities and towns across the country, the prime minister said Monday, calling a return to order "our No. 1 responsibility."
The tough new measures came as France's worst civil unrest in decades entered a 12th night, with rioters in the southern city of Toulouse setting fire to a bus after sundown and pelting police with gasoline bombs and rocks.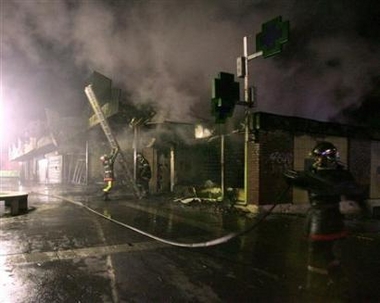 Smoke rises from the burnt out buildings at a commercial centre in Evreux, 96Km (60 miles) west of Paris early November 6, 2005. [Reuters]
Outside the capital in Sevran, a junior high school was set ablaze, while in another Paris suburb, Vitry-sur-Seine, youths threw gasoline bombs at a hospital, police said. No one was injured. Earlier, a 61-year-old retired auto worker died of wounds from an attack last week, the first death in the violence.
Asked on TF1 television whether the army should be brought in, Prime Minister Dominique de Villepin said, "We are not at that point."
But "at each step, we will take the necessary measures to re-establish order very quickly throughout France," he said. "That is our prime duty: ensuring everyone's protection."
The recourse to curfews followed the worst overnight violence so far, and foreign governments warned their citizens to be careful in France. Apparent copycat attacks took place outside France, with five cars torched outside the main train station in Brussels, Belgium. German police were investigating the burning of five cars in Berlin.
The violence started Oct. 27 among youths in a northeastern Paris suburb angry over the accidental deaths of two teenagers but has grown into a nationwide insurrection.
The mayhem is forcing France to confront anger building for decades in neglected suburbs and among the French-born children of Arab and black African immigrants. The teenagers whose deaths sparked the rioting were of Mauritanian and Tunisian descent. They were electrocuted as they hid from police in a power substation, apparently thinking they were being chased.