Beijing closes poultry markets; WHO to help
(AP/Reuters)
Updated: 2005-11-08 07:15
The World Health Organization said Monday that it would help China investigate possible human cases of bird flu, while Chinese officials stepped up anti-flu measures, destroying six million fowl and closing all 168 live poultry markets in Beijing.
Authorities in Beijing also went door-to-door seizing chickens and ducks being raised in private homes, while Shanghai banned sales of live ducks, quail and other birds, officials said.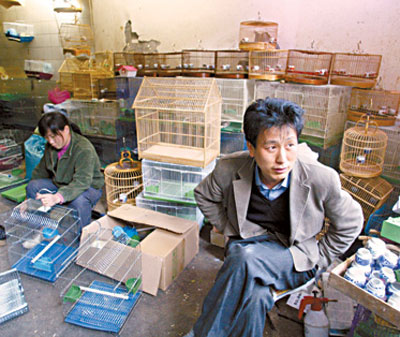 Pet-bird vendors sit by empty cages at a bird market in Beijing yesterday after the capital city ordered the shutdown of all live poultry and pet-bird markets. [China Daily]
The Chinese government said on Sunday that it was reopening an investigation into whether bird flu had killed a 12-year-old girl and sickened two people last month in cases that originally were ruled not to have been caused by the virus. If confirmed, they would be China's first human cases of the virulent H5N1 strain of bird flu.
The UN health agency and Chinese officials were discussing what role the WHO should play, said Roy Wadia, a spokesman in Beijing for the agency. He said it could offer help in field work, lab testing and other areas.
A decision is expected in a few days, and then "hopefully we'll have the WHO experts come to China much sooner rather than later," Wadia said.
However, he said the final results of any tests could take months.
Also Monday, the World Bank said that a human influenza pandemic involving bird flu could cost industrialized economies $550 billion.
In a report on the bird flu threat, it said previous studies on flu pandemics had suggested that any new pandemic could cause between 100,000 and 200,000 human deaths in the United States alone, which it said translated into economic losses for America of between $100 billion to $200 billion.
"If we extrapolate from the U.S. to all high income countries, there could be a present value loss of $550 billion," the World Bank said. "The loss for the world would of course be significantly larger, because of the impact in the developing world."