42 killed, 21 missing in two mine accidents
By Guan Xiaofeng (China Daily)
Updated: 2005-11-08 05:46
At least 42 people were killed and 21 missing in two mining accidents in North China on Sunday one day before the authorities decreed that a senior manager has to accompany coal miners underground on every shift.
A gypsum-mine collapse in Hebei Province claimed the lives of 27 with 20 missing on Sunday evening.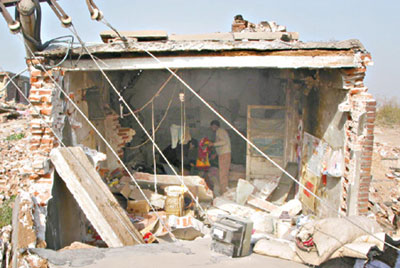 A house is seen destroyed by a gypsum-mine collapse in Xingtai, Hebei Province. [Xinhua]
The accident happened at 7:40 pm at Kangli Gypsum Mine of Shangwang Village in Xingtai, according to the State Administration of Work Safety (SAWS).
It also triggered the collapse of two adjacent gypsum mines, Taihang Mine and Linwang Mine. A two-storey residential building and several one-storey structures also collapsed.
The safety watchdog said none of the three privately-owned mines had passed safety tests and had been ordered to stop production before the accident.
Rescuers are continuing efforts to save the miners who are still trapped underground at the Kangli mine. They had saved 16 people and pulled out 27 bodies by yesterday evening.
In Shanxi Province, a coal mine blast killed 15 miners on Sunday morning in Qingxu County near Taiyuan, the provincial capital. One miner is missing.
The SAWS said 25 miners were working underground at Taiping Coal Mine when the accident happened, and nine managed to escape. The township pit has a complete set of official licences and safety certificates.
To tackle the country's woeful safety record, the SAWS and the National Development and Reform Commission yesterday ordered coal mine owners and managers to go with miners underground on every shift.
Their primary job would be to discover and deal with any potential dangers before they turn into a disaster.
"It must be ensured that at least one member of the management is on the spot on every shift, and they should come and go with workers," the document said. Local safety watchdogs were ordered to supervise the implementation of the policy.
Last week, the authorities announced that 4,578 officials had been found to have invested 653 million yuan (US$81 million) in coal mines after the State declared a crackdown on collusion between local officials and coal mine owners.
A total of 2,672 Chinese coal miners were killed in accidents during the first six months of the year, slightly more than in the same period last year, according to the SAWS.
The worst accident this year was a mine blast in February which killed 214 miners in Northeast China's Liaoning Province. A pit flood killed 121 workers in South China's Guangdong Province in August.
(China Daily 11/08/2005 page1)