Report: Russia mulls China pipeline branch
(AP)
Updated: 2005-11-07 22:15
Russia is working on a feasibility study for a pipeline to China, Energy and Industry Minister Viktor Khristenko said in an interview published Monday.
Khristenko told Profil magazine the planned Siberia-Pacific Coast pipeline was a "pragmatic" project and said a branch to China would not leave out Japan, which originally appeared slated to be the main customer for the oil.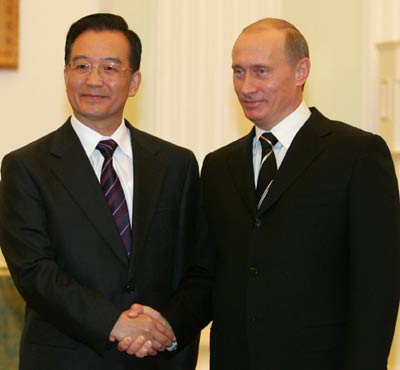 Chinese Premier Wen Jiabao (L) and Russian President Vladimir Putin shake hands as they meet in Moscow, October 26, 2005.[Xinhua]
Russia is in the process of deciding whether to send crude to China from yet-to-be-developed fields in eastern Siberia via a branch of a planned Siberia-Pacific coast pipeline. Japan is concerned that in the course of construction the Chinese branch could take priority.
The 1.6 million barrels per day pipeline is to run from the town of Tayshet in Siberia's Irkutsk region to Skovorodino in the Amur region. From there, crude will eventually be piped east to Russia's Pacific coast, with a possible spur southward to China.
Russia last year agreed the pipeline should go to Perevoznaya on the Pacific coast — an apparent victory for Japan, which wanted to be the first in line for Siberian crude.
But in April, Moscow signed off on the project's $6.5 billion first stage, which will carry 600,000 barrels daily to Skovorodino, just 40 miles from the Chinese border.
That was seen as a partial victory for Beijing and the decision stoked Japanese fears that Russia would not extend the pipeline to the Pacific coast as quickly as planned, instead favoring a route south to the Chinese city of Daqing — the center of its oil industry.
The feasibility study would take "some time," Khristenko said, after which a decision on the branch would be made.
He said oil would in any case be sent to the Pacific, as the first stage of the project envisions the simultaneous construction of an oil port that would be served by rail from Skovorodino.
"I have spoken quite extensively with my Japanese colleagues and have tried to persuade them that we aren't taking any secret, Byzantine steps," Khristenko said.