Ex-Peruviian president arrested in Chile
(AP)
Updated: 2005-11-07 20:48
Former Peruvian President Alberto Fujimori was arrested early Monday, hours after he defied an international arrest warrant and flew from Japan to Chile, police said.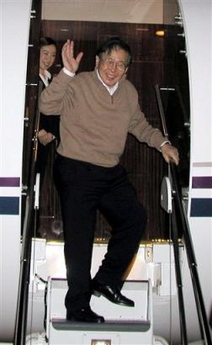 In this photo released by Fujimori's press service, Peru's fugitive former President Alberto Fujimori is seen waving as he left Japan boarding a private jet to Chile on Sunday, Nov. 6, 2005, saying he intends to return to Peru to again seek the presidency. Although a warrant for the arrest of Fujimori has been issued to Interpol for some time, the Chilean government said he cannot be arrested without an order from a Chilean judge. [AP]

Shortly after Fujimori's presence in Chile was confirmed Sunday, the Peruvian government asked Santiago to arrest him while a request for his extradition was filed.

Police arrested the 67-year-old at his hotel early Monday.

Local media said lawyers for the former Peruvian leader were already appealing the arrest, which had been requested by the Peruvian government as a first step to seek his extradition.

Fujimori, who fled Peru in 2000 amid a growing scandal affecting his decade-long regime, faces 21 charges in Peru stemming from alleged corruption and his alleged support of a paramilitary death squad.

He resigned the presidency in a fax sent from Tokyo.

Fujimori arrived in Chile with four people. One of them, Luis Silva, said before the arrest that the former president was planning to hold a news conference here to explain his plans.

Silva gave reporters a brief communique on behalf of Fujimori that said: "It is my purpose to remain temporarily in Chile, as part of the process for my return to Peru" to run for president in the election set for April, 2006.