China, US strike deal on China textiles
(AFP)
Updated: 2005-11-07 17:21
The United States and China have agreed to a deal on the import of mainland clothing and fabric, resolving a bitter trade dispute between the two nations, a major Chinese textile association said.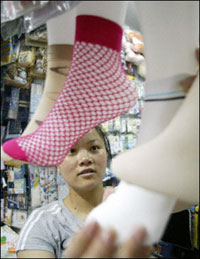 A shop assistant puts socks on mannequin feet in a store in Beijing in this undated file photo. [AFP]

"Both the US and China have compromised in reaching this textile pact," China National Textile and Apparel Council spokesman Sun Huaibin said.

"China made concessions on the duration of the quotas, allowing the US to impose controls on access by Chinese textiles and apparel to the American market through 2008, instead of 2007," Sun said.

The US imports of China-made textiles will be limited to 10-17 percent annual growth rates through to 2008, a concession by China, which wanted it to expire in 2007, Sun said.

It provides for a progressive increase in imports of most major textile and apparel products from China -- by 8 to 10 percent in 2006, 13 percent in 2007 and 17 percent in 2008.

It also represents a concession by Washington, which had proposed keeping annual growth close to 7.5 percent, he added.

Sun said working under the new agreement would be better than being subjected to protectionist, unilateral safeguards and would increase certainty for the Chinese industry.