Fujimori arrested in Chile - Peru's foreign minister
(Reuters)
Updated: 2005-11-07 15:09
Peru's disgraced ex-President Alberto Fujimori, wanted there on human rights abuse and corruption charges, was arrested during a surprise visit to Chile, Peru's foreign minister said late on Sunday.
Fujimori, who led Peru from 1990 to 2000, has been a fugitive in his ancestral homeland Japan since he fled there in November 2000, when a corruption scandal toppled his government. He flew from Japan to Chile on Sunday to try to relaunch his political career and run for president next year.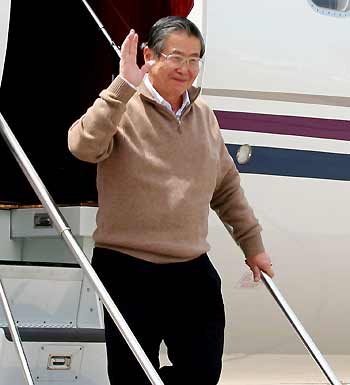 Former Peruvian president Alberto Fujimori waves upon his arrival from Tokyo to Santiago de Chile November 6, 2005.[Reuters]

Peruvian Foreign Minister Oscar Maurtua told reporters in Lima that Fujimori had been arrested by Chilean police and moved from his hotel. It was unclear where he had been taken.

"The Chilean courts have just issued an arrest warrant for Alberto Fujimori following a request by Peru ... He's been arrested," Maurtua told reporters in a late night briefing.

Chilean police were not immediately available for comment.

"It is my aim to temporarily remain in Chile as part of my efforts to return to Peru and keep my promise to an important part of the Peruvian people who have called on me to be a candidate in the 2006 elections," Fujimori, 67, said in a statement released earlier in Peru and Chile.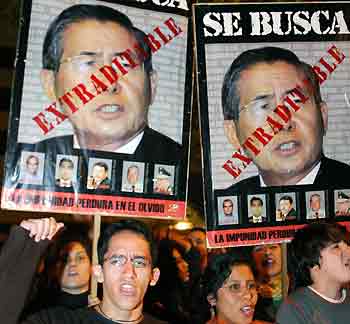 Peruvians protest against former Peruvian President Alberto Fujimori, holding posters with his picture, after his arrival in neighbouring country Chile, in front of the Chilean embassy in Lima, November 6, 2005. [Reuters]

Fujimori said in October he would run for president despite being barred from political activity due to 21 criminal charges against him. These included corruption and political responsibility for the death squad murders of 25 people, including a child, in the early 1990s.

Fujimori arrived in Chile at a time of tense relations between Chile and Peru, after Peru's Congress passed a law last week in an attempt to reclaim sea territory from Chile.

Under Chilean law, Fujimori could not be arrested at the airport because local courts must process international arrest warrants to make them valid.

"There are several international arrest warrants against Alberto Fujimori, which are not legally valid in Chile," said Maria Elena Gomez, the local chief of the International Police. She said Fujimori is free to leave Chile as long as the courts have not issued a warrant.

However, Peru's Maurtua said he was now barred from leaving the country.