Girl sold herself for mom: Dilemma of Internet charity
(Southern Metropolis Daily/zonaeu)
Updated: 2005-11-07 09:39
A pretty female university student offered to "sell herself" on the Internet in order to save her seriously ill mother -- this incident had an eye-catching start, a series of climaxes in between, and an ending that nobody wanted to see.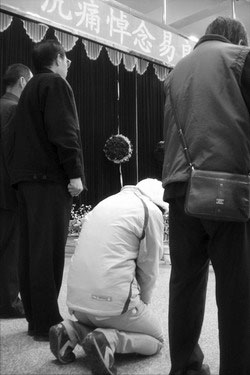 Chen Yi knees down to mourn her mom at the funeral on Ocotober 23, 2005. [Southern Metropolis Daily]

Chen Yi, who is a third-year university in Chongqing, posted a call-for-help message on the Internet in order to raise money to pay for her mother's medical expenses.

Concern and money both began to rush in, together with plenty of doubts and suspicions. This call-for-help incident that began on September 15 triggered off a storm on the Internet.

Her classmates appeared on the scene, her mother appeared, her mother's hospital wardmates appeared, her mother's co-workers appeared and the Internet hackers appeared too.

Some of her "personal luxury" items were exposed, her relatively well-off family situation which she did not reveal was exposed, her gender preference was exposed, her private emails were exposed and her private chat session logs were exposed. Her refusal to disclose the details of the finances infuriated netizens. Some netizens even paid their own way to go Chongqing to investigate her situation in order to discover the truth. The exposed facts drove Chen Yi into even more hardship.

Amidst the sounds of condemnation, Chen Yi's mother passed away on October 22 in a hospital.

But the matter did not end here, as the discussion went into an even deeper level. The Internet is a platform of exchange of information, and there are numerous pleas for assistance.

Just how to formalize the process so that those who are truly in need of assistance can receive the help through the Internet becomes a practical problem that requires an immediate solution.

In the face of the tremendous civic ability and willingness to donate, the relevant government departments should quickly set up a complete system to develop and supervise non-government organizations as quickly as possible.

On October 23, 2005, the funeral home in Luzhou City, Sichuan province was filled with the sound of mourning on behalf of 51-year-old Yi Liangwei, an ordinary public servant who worked as an prosecutor.