Henan gets it right in war on HIV/AIDS
By Zhang Feng (China Daily)
Updated: 2005-11-04 05:49
ZHENGZHOU: Henan Province was once the darkest spot on the nation's HIV/AIDS landscape.
Now the province is the shining example on setting up a comprehensive healthcare system to fight the disease.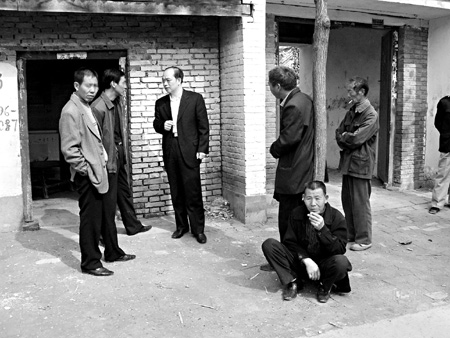 Nie Yong (third from left), director of the HIV/AIDS control office of Zhumadian in Central China's Henan Province, chats with two HIV/AIDS sufferers (first and second from left) in Wenlou Village, one of the city's dozens of villages seriously affected by the deadly virus.

For 10 years, ever since the first case was reported in the mid-1990s, the Central China province has been in the glare of national and international media: for illegal blood sales, infections transmitted through contaminated blood, tardy reporting of cases and poor medical care as well as the sheer suffering of victims.

But now, the nation's most populous province, with nearly 30,000 reported cases of HIV/AIDS, has set up a dependable system to fight the epidemic.

After years of opprobrium, says Li Zizhao, director of HIV/AIDS control office under the Henan Provincial Health Bureau, there will be no excuses; he will let actions speak loudly.

He described how the authorities got it right in establishing a comprehensive care system sponsored and run by governments.

A province-wide system of epidemic surveillance, prevention, treatment and welfare support is in place.