World Bank raises China's growth forecast to 9.3%
(chinadaily.com.cn/agencies)
Updated: 2005-11-03 11:44
The World Bank has raised its forecast for China's economy to grow by 9.3 percent in 2005, and 8.7 percent for 2006, based on strong domestic demand and surging exports.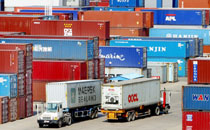 Trucks carry import and export containers at a Yangtze port in Nanjing, Jiangsu Province October 31, 2005. Based on strong domestic demand and surging exports, the World Bank raised its forecast of China's econmic growth rate to 9.3%. [newsphoto]

It was the third time this year the bank has raised its forecast for China's economic growth, following predictions of 9 percent in August and 8.3 percent in April.

The bank said Thursday that stronger-than-expected domestic demand for the upward change. It said low inflation was expected to continue.

And, China's economy has already achieved its long-awaited landing even with growth rates at around 9 percent, the country¡¯s central bank chief economist said Wednesday.

The comments suggested no further measures would be needed to hold back Chinese growth and that the central bank saw little risk of a bust in the world's sixth-largest economy, increasingly a pillar of global growth.

Tang Xu, director-general of the research bureau of the People's Bank of China, said the yuan would be under pressure to strengthen in the short term and the July revaluation had not yet affected the country's rising foreign exchange reserves.

In an interview with the Reuters, Tang played down any imminent threat of deflation.
Asked when the economy would achieve the soft landing that the authorities have been trying to effect for more than two years, Tang said: "It has already landed."

"Inflation has slowed and investment growth has slowed," he said. "The economy has entered a reasonable range. We believe growth around 9 percent is reasonable."

He was optimistic about next year, too.