Mine blast kills 17 in Shanxi
(China Daily)
Updated: 2005-11-03 05:48
TAIYUAN: A coal mine gas accident in North China's Shanxi Province on Monday has killed 17 people, the local coal mine safety supervision authorities confirmed yesterday.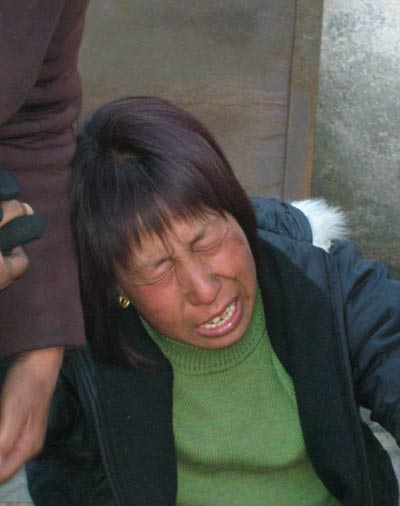 A relative of a dead miner weeps at a coal mine in Yuanping City, North China's Shanxi Province October 31, 2005. Thirteen miners were killed in a gas blast and two others were killed in the following rescue efforts. [newsphoto]
The accident occurred at 4:50 pm on Monday at Fenhemao Coal Mine in Lianggou town near Xinzhou, killing all 13 miners who were working underground.
The management of the mine immediately sent a team of six rescuers down the pit, but two of them suffocated to death.
The tragedy killed another two miners in the neighbouring Xiaosangou Mine, as the two mines share an entrance.
Fenhemao, a village-run coal mine, reports an annual output of 30,000 tons. It holds a safety certificate but its business certificate and production permit had both expired, said officials with the Shanxi Provincial Coal Mine Safety Supervision Bureau.
Yu Youjun, acting governor of the province, has urged the bureau and the Xinzhou city government to continue rescue efforts, pinpoint the cause of the accident and compensate the victims' families in time and in full.
Another gas explosion, in Southwest China's Chongqing Municipality yesterday afternoon, has left one person dead, with six others missing, according to local sources.
The accident happened around 2:30 pm in the Changping Coal Mine, about 40 kilometres west of Fengjie County.
(China Daily 11/03/2005 page2)