Short message to scamsters: Beware!
By Jiang Zhuqing (China Daily)
Updated: 2005-11-03 05:48
"Your friend has ordered a song for you, please dial 13XXXX for it."
Have you ever received a similar mobile phone text messages and thought it was a pleasant surprise? Beware, as it may be a costly trick.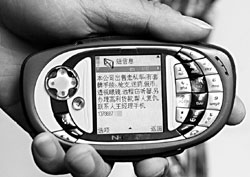 A resident in Hefei, capital of East China's Anhui Province, shows an illegal text message yesterday which reads: "Our company sells smuggled cars with licences, guns, hallucinogenic drugs, X-ray glasses, bugging devices; and provides high-interest loans and services of revenge on your enemies." [China Daily]

Starting this month, a nationwide campaign has been launched to fight against this type of scam, said Wu Heping, spokesman of the Ministry of Public Security (MPS) at a press conference on Tuesday.

"Illegal mobile phone text messages have become a major cause of damage to social order," said Wu.

Statistics showed that the Shanghai Public Security Bureau had received 16,190 reports of illegal text messages from July to October.

The authorities cracked down on four fraudulent message cases in the provinces of Fujian, Gansu, Jiangsu and Shanghai from March to October, said the spokesman. The swindlers tricked the victims out of between 200,000 yuan (US$24,700) and 20 million yuan (US$2.46 million).

The new campaign is an extension of a crackdown started last year by the MPS on pornographic and subversive content and spam messages sent by mobile phones or through the Internet, officials said.

Wu's ministry will work with the Ministry of Information Industry (MII) and the China Banking Regulatory Commission to stamp out messages that dupe people into turning over personal account information, or involve prostitution, gambling, contract murder, guns for sale and fake lotteries, officials said.

During the campaign, mobile phones users are encouraged to call the police hotline 110 for help if they suspect any cheating in the text message, said Wu.

On receiving the report, the police department will forward the information to telecoms operators, who will shut down the illegal numbers, and to banks, who will close related accounts, Wu said.

The MII is drafting a new set of rules for text message management, which may require mobile phone users to use real names when registering with service operators, said Zhao Zhiguo, deputy director of the MII's Telecommunications Administration.

Zhang Jinsong, an official from the China Banking Regulatory Commission, said that it was setting up a verification system to keep people from opening accounts under false names, and to train banking staff to assess the truthfulness of the second-generation identification cards.

Nowadays, text messaging (SMS) is extremely popular among Chinese mobile phone users, and generates huge profits for SMS providers.

Wu disclosed that the number of mobile phone users would surpass 400 million by the end of 2005, and that a total of 500 million messages are sent every day.

(China Daily 11/03/2005 page2)