Two billion yuan earmarked to control bird flu
By Zhao Huanxin (China Daily)
Updated: 2005-11-03 05:45
China's fight against bird flu received a strong shot in the arm yesterday the government has earmarked a special fund of 2 billion yuan (US$246.6 million) for epidemic control.
"(We) must realize the severe and compelling situation in bird flu control, maintain high vigilance, and never let down our guard," said a statement from a State Council (China's cabinet) meeting held yesterday in Beijing.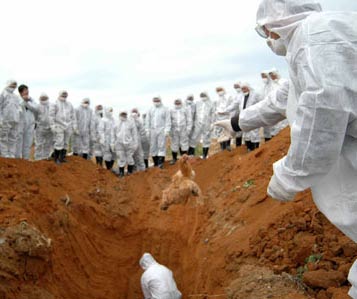 Health workers in Yongzhou city, Central China's Hunan Province, bury dead chickens "killed by bird flu" in a drill Wednesday November 2, 2005 to test their emergency response ability. A bird flu outbreak was reported in the province's Xiangtan city last month. It was immediately brought under control.[Xinhua]
The meeting, presided by Premier Wen Jiabao, decided to set aside the amount from this year's central budget for prevention and control of the highly pathogenic avian influenza.
It also announced that it would reactivate the national command headquarters to co-ordinate efforts against bird flu.
Observers noted the size of the fund exactly matches the budget allocation made in April 2003 to fight against the SARS (severe acute respiratory syndrome) contagion.
In addition to funding, the State Council said, any failure, delay or cover-up in reporting outbreaks will be dealt with harshly, according to sources.
Information about epidemics will be released accurately and in time, and technological co-operation with other countries and international organizations will be further enhanced, they said.
In case of a new outbreak, measures such as culling, disinfection and quarantine should follow immediately to eradicate any infection at the site, the statement said.
The meeting stressed that the country's priority is to ensure no one is infected.
China has reported and brought under effective control three bird flu outbreaks among poultry over the past month in North China's Inner Mongolia Autonomous Region, and East China's Anhui and Central China's Hunan provinces.
No human case has been reported.
The State Council statement said the country should improve emergency procedures and prevention and treatment measures for human infection, and strengthen monitoring of live poultry markets.