Viet Nam, China seek early border agreement
By Jiao Xiaoyang and Qin Jize (China Daily)
Updated: 2005-11-03 05:45
HANOI: China and Viet Nam yesterday called for speeding up border demarcation and closer economic links.
Considerable progress has been made on the survey of land borders and the two sides will step up efforts to complete demarcation and reach an agreement by 2008, according to a joint communique issued at the end of President Hu Jintao's three-day visit to the country.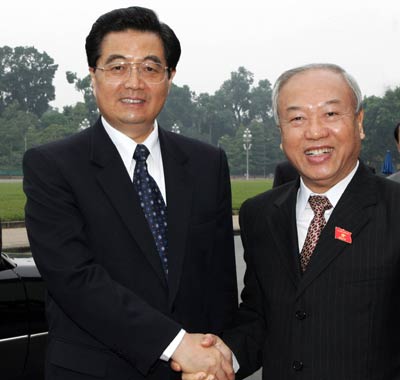 Chinese President Hu Jintao shakes hands with Viet Nam National Assembly President Nguyen Van An in Hanoi November 1, 2005. [Xinhua]
The two sides agreed to continue normal fishing in the Beibu Bay; conduct surveys on joint fishery resources, and oil and gas exploration; and try to start joint navy patrols in the area.
They will start talks as early as possible on sea-border demarcation as well as joint exploration in areas beyond the Beibu Bay, according to the communique, which affirmed growing mutual trust between the two neighbours.
Hu held talks with top Vietnamese leaders, attended the signing of a host of co-operative agreements, and delivered a speech to the National Assembly the first foreign leader to do so. He returned to Beijing yesterday.
President Hu's visit is conducive to handling the common concerns of both sides; promoting regional co-operation; and enhancing peace, stability and prosperity in the region as well globally, Wang Jiarui, head of the International Department of the Communist Party of China Central Committee, told reporters yesterday.
He said Hu's successful visit solidified the traditional friendship between China and Viet Nam and expanded their channels of co-operation.
The communique reaffirmed China's "firm support" for Viet Nam's bid for the World Trade Organization membership, and called for working towards US$10 billion annual bilateral trade volume before 2010.
"Viet Nam is opening its doors to the world and China is one of its major business partners, considering the two countries' geographic and cultural proximity," said Su Hao, a researcher in East Asian affairs at China Foreign Affairs University.
"Viet Nam is, in a way, following China's path of market-oriented reform, its economic structure is complementary with China's, and there are a lot of things the two countries can work together," said Su.
A number of documents were signed during Hu's visit. They included a framework agreement for China to grant Viet Nam 550 million yuan (US$67 million) in preferential credit to modernize the signal system of the Vinh-Ho Chi Minh City Railway, and one between Electricity Viet Nam and China Southern Grid Corporation for the sale of power to six northern Viet Nam cities.
(China Daily 11/03/2005 page1)