President Hu in Hanoi for goodwill visit
(Xinhua)
Updated: 2005-10-31 14:51
Hu Jintao, general secretary of the Central Committee of the Communist Party of China (CPC) and president of China, arrived in Hanoi on Monday for a three-day official goodwill visit to Vietnam.
Hu is in Vietnam as guest of Nong Duc Manh, general secretary of the Central Committee of the Communist Party of Vietnam, and Tran Duc Luong, president of Vietnam.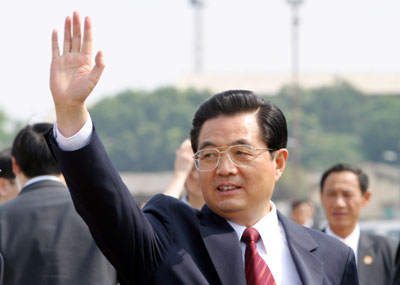 China's President Hu Jintao waves after landing at the Noi Bai International airport in Hanoi October 31, 2005. Hu is in Hanoi on a three-day official visit to Vietnam, the first time since he took office as Chinese Communist Party Chief and China's President. [Reuters]

During the visit, Hu will meet Vietnamese leaders and exchange views on bilateral relations and other issues of common concern.

In a written statement delivered upon arrival at the airport, Hu reviewed the Sino-Vietnamese traditional friendship, which he said is the common treasure for both sides.

He said guided by the principles of long-term stability, future orientation, good neighborly friendship and all-round cooperation, China and Vietnam are continuing their friendship with the determination to be good neighbors, friends, comrades and partners forever.

Hu said he believes that his visit will promote friendship and mutual trust between the two parties, the two countries and their peoples, as well as the reciprocal cooperation and common development of the two sides.

This year marks the 55th anniversary of Sino-Vietnamese diplomatic ties, said Hu. He hoped both sides will take this opportunity to jointly push bilateral relations to a new high.