ICBC sets up joint-stock bank, readies for IPO
(AP)
Updated: 2005-10-28 13:57
Another state-owned bank, the Bank of China, also is expected to launch a stock offering by next March or April.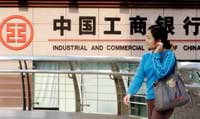 A woman walks in front of an Industrial and Commercial Bank of China office in Shanghai in this October 17, 2005 photo. The bank has been transformed into a joint stock company and will seek overseas listing, probably in Hong Kong next year. [newsphoto]

The potential size of ICBC's eventual IPO has not yet been announced. The Construction Bank raised $8 billion with its IPO, the world's biggest stock launch this year. The bank's shares made only a small splash on the first day of trading Thursday, however, because their price left little room for quick gains. The shares ended the day unchanged at their IPO price of HK$2.35 (30 U.S. cents).

Like the other big banks, ICBC is burdened with bad debt and is in the process of removing some 700 billion yuan ($86 billion) in nonperforming assets from its balance sheets.

In its announcement Friday, the bank vowed to ensure "that customers' interests come first, faithfully perform its duties, carefully handle business issues ... and continue to render quality financial services to its customers."

The bank reportedly is tapping high-powered veteran bankers help to improve its corporate governance and risk management.

The Hong Kong newspaper South China Morning Post reported earlier this week that ICBC would name Antony Leung, a former Hong Kong financial secretary, and John Thornton, a former Goldman Sachs president, to be independent directors of the joint stock company.

Leung worked at Chase Manhattan and Citigroup before joining the Hong Kong government in 2000. Thornton teaches at Beijing's Tsinghua University, the country's premier engineering school.