Israeli missile kills 7 Palestinians
(AP)
Updated: 2005-10-28 08:48
Abbas spokesman Nabil Abu Rdeneh said Sharon's demands for a crackdown "do not serve the peace process and we are ready for a meeting between Sharon and Abu Mazen without conditions."
In the Gaza refugee camp of Jebaliya, Israeli aircraft fired two missiles at a car carrying Islamic Jihad militants. Hospital officials said at least seven people were killed and 15 wounded, four of them critically. Among those killed were four Islamic Jihad members, including Shadi Mohanna, the group's field commander for northern Gaza.
The missiles struck the white car as it drove through the camp, which was crowded with people walking in the streets after evening prayers at a mosque. Two charred bodies were pulled from the wrecked vehicle, and shrapnel and blood was scattered over a wide area.
Later Thursday, Israeli jets fired missiles at a road leading to northern Gaza, but there no reports of injuries. The Israeli military said the missiles were aimed at an open area used by militants to launch rockets.
Also in Gaza, Islamic Jihad said it fired rockets at Israel. However, witnesses said they landed inside Gaza. There were no reports of casualties.
In a text message sent to The Associated Press, Khader Habib, an Islamic Jihad spokesman, said the group would strike back. "There will be a painful, immediate response for tonight's crime," he said.
Islamic Jihad said it carried out the Hadera bombing to avenge the killing of a top gunman in the West Bank.
The group has repeatedly flouted the cease-fire by claiming it has the right to retaliate for any perceived Israeli violations. Israel accused Iran and Syria of assisting the attackers, noting that Islamic Jihad is funded by Tehran and is based in Damascus.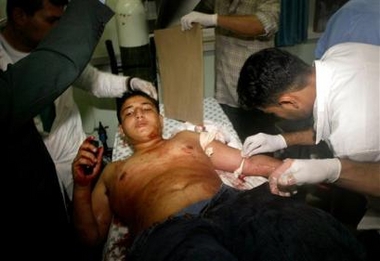 A Palestinian medic treats a wounded youth injured in an Israeli missile attack in Jebaliya, at the Kamal Edwan hospital in Beit Lahiya, northern Gaza Strip, Thursday, Oct. 27, 2005.[AP]

Wednesday's attack came hours after Iranian President Mahmoud Ahmadinejad praised suicide bombings and said Israel should be "wiped off the map." Israeli leaders called for Iran to be expelled from the United Nations for the president's comments, which drew wide international condemnation.

Security officials said Israeli troops would intensify the hunt for Islamic Jihad members and step up targeted killings. In the northern West Bank ¡ª an Islamic Jihad stronghold ¡ª the army plans to dig trenches and erect earthen barriers to disrupt Palestinian travel and make it harder for attackers to reach Israel.

In the West Bank town of Jenin, soldiers backed by helicopter gunships arrested Abdel Halim Izzedine, an Islamic Jihad leader, at his home. Izzedine had rarely spent time there in recent weeks for fear of arrest but surfaced Thursday. He was speaking by phone to an Israeli TV reporter when Israeli troops pounded on his door.

West Bank commander Brig. Gen. Yair Golan said Izzedine, considered as a political leader, was arrested because he had ties to Islamic Jihad's military wing.

Israel, the United States and the international community had hoped the Gaza withdrawal would jump-start peace efforts. But the two sides have so far failed to capitalize on the opportunity.

Among the unresolved issues is the reopening of Gaza's border with Egypt, which Israel closed shortly before the pullout due to security concerns. The Palestinians say the border must be reopened and other travel restrictions must be lifted for Gaza's economy to recover. Israel wants to be able to monitor security issues at the border.