China Construction Bank makes flat HK debut
By Lillian Lau (China Daily)
Updated: 2005-10-28 05:48
HONG KONG: The mainland's third-largest bank China Construction Bank (CCB) made a flat trading debut yesterday with its share price ending at HK$2.35 (30 US cents), unchanged.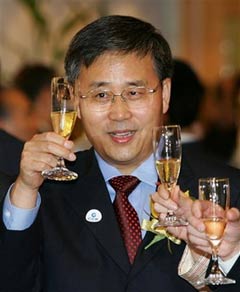 Guo Shuqing, chairman of China Construction Bank Corporation (CCB), toasts during the debut of CCB at the Hong Kong Stocks Exchange October 27, 2005. [Reuters]
The sluggish market environment sweeping Hong Kong has been blamed for the lack-lustre performance of the lender, which raised US$8 billion in its initial public offering (IPO) last week, the world's largest in the past four years.
The stock, one of the most active stocks on the Hong Kong fund market, rose by 1.06 per cent from HK$2.35 to HK$2.375 at midday, but slipped down to the starting price later.
A total of 3.367 billion shares changed hands, involving HK$8.58 billion (US$110 million).
CCB's shares were up roughly 1 per cent in the grey market before they started trading on the Hong Kong Stock Exchange yesterday.
"October is traditionally off season for Hong Kong's stock market," said Andrew To, executive director at Tai Fook Securities, adding that this partly explains CCB's sluggish debut.
The Hang Seng Index has lost 6.7 per cent so far this month.
Additionally, CCB's IPO price is a little bit high for shareholders to make a quick sale of shares.
"If it was priced around HK$2.23, the situation would be better," said To.