China Construction Bank gains in HK debut
(Agencies)
Updated: 2005-10-27 16:41
Shares in China Construction Bank rose by one percent on their trading debut Thursday, which, with a huge US$8 billion IPO, is the world's biggest in four years.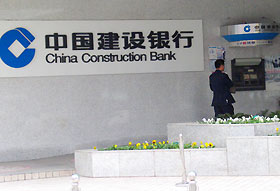 A man stands next to branch of China Construction Bank in Shanghai on October 24, 2005. [newsphoto]

The stock, by far the most active on the Hong Kong bourse, had been expected to rise only slightly, given recent equity market weakness, a demanding IPO price, and the huge size of a deal that left little pent-up demand for shares, the Reuters reported.

The first of China's four, big state lenders to list ended the morning session at HK$2.375, compared with an IPO price of HK$2.35. The shares traded in a tight range between HK$2.35 and HK$2.375, with 9 percent of CCB shares changing hands by mid-day.

The Hang Seng Index has lost 6.7 percent so far this month.

"After pricing its shares at the top end, the bank didn't leave enough on the table for investors to take a profit," said Yang Liu, a fund manager at Atlantis Investment Management. "In the long run, I still believe the bank has good prospects," she said.

Construction Bank (0939.HK), China's third-largest lender, priced its offering near the top of an indicated range, giving it a market value of nearly $67 billion -- more than American Express and Deutsche Bank.

CCB Chairman Guo Shuqing said the pricing reflected keen interest from both institutional and retail investors, who subscribed to over 9 times and 42 times, respectively, the shares initially offered to them.

"Investors had huge demand for CCB shares," he told reporters during a listing ceremony at the Hong Kong exchange.

China's biggest-ever IPO marks a milestone in Beijing's efforts to reform the country's weak financial sector and sets the stage for listings expected next year by rivals Bank of China and Industrial and Commercial Bank of China.