Tyco, employees donate to support the disadvantaged
(chinadaily.com.cn)
Updated: 2005-10-27 09:18
Tyco International, a Fortune Global 500 company based in the United States, kicked off a new charity initiative over the weekend at the Great Wall outside of Beijing.
At Saturday's ceremony, Tyco announced a donation of 500,000 yuan to the China Children and Teenagers' Fund (CCTF).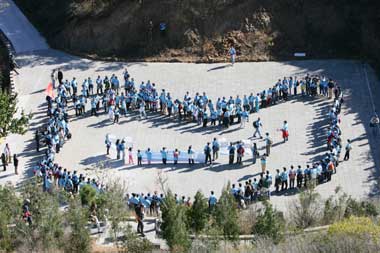 Tyco employees make a heart-shaped sign to show their committment to China's charity programs to help the disadvantaged children near the Great Wall in Beijing October 22, 2005.

Tyco employees in China contribute half of the donation. The funds raised by employees in China were then matched by the company, a reflection of Tyco's deep commitment to supporting philanthropic programs.

The donation ceremony took place at Jinshanling section of the Great Wall -- after which participants walked the 11-kilometer route to Simatai in about five hours. About 300 Tyco employees participated the walk, including those who took an overnight train from Shanghai, Shenyang and Dongguan to Beijing at their own expenses.

Song Liying, Secretary General of CCTF, accepted Tyco's contribution.

Song said: "CCTF greatly appreciates Tyco's kind donation. The CCTF supports to create a safe and healthy environment in which children can grow and develop. This donation demonstrates Tyco International's commitment to this cause and we hope to work with Tyco more closely in the future in order to help more children in China."

Michael T. Byrnes, China President of Tyco International said: "We are proud that Tyco plays a vital role in the lives of hundreds of millions of Chinese people with its world class products and services. Since Tyco came to China, we have been engaged in a variety of charitable activities. Supporting the healthy development of children in China is a particular interest of ours. Today's walk and the contributions of our Tyco employees are a visible demonstration of that commitment. The company is proud to help bolster a program that received so much individual employee support, as well."

The donation will be allocated by CCTF to Beijing Zhiguang Special Education Training School -- which enrolls mentally retarded children -- to assist with the improvements to the school facility, advancements of the school, teacher training, and to help support children with financial difficulties.

Donald Choi, a senior Tyco executive in China acting as Chairman of the Organizing Committee of the Charity Walk, said: "Every Tyco employee is excited about this project and proud of being a part of supporting children's welfare in China. By supporting CCTF, we are helping some disadvantaged children in building their self-esteem and ability to earn their living. This is not a one-time donation but we will follow on with continuous hospitality visits and volunteer works to the school by our staff. We look forward to continuing our cooperation with the CCTF and to seeing the children at Zhiguang School grow and progress."