Polluting boats ban changes way of life
By Miao Qing (China Daily)
Updated: 2005-10-27 05:50
Gao Xiaomian, a 44-year-old woman whose family has lived on boats for generations, was close to tears when informed that her home, a diesel powered boat, would be banned from the Huangpu River from the start of October.
"Of course, I do not want to leave. But it seems that eventually I have to," she said during an interview with the Shanghai Star before rules banning diesel boats from the fiver came into effect.
The shabby vessel is more than a home to Gao and her 48-year-old husband they rely on it to make a living. Plying the Huangpu River and its tributaries, Gao's family collects scrap iron, spilled from other vessels, using a large magnet which reaches deep into the water.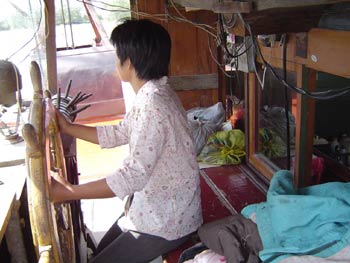 Cui Haiping's wife steers their boat from the cramped cabin. Following the recent ban on diesel powered boats on the Huangpu River, many boat owners had to return to their hometowns, usually in less-developed areas of Jiangsu, Anhui and Zhejiang Provinces. [China Daily]
Their source of income depends entirely on being able to navigate the routes used by large cargo ships. Their only other source of income is fishing, which is not nearly so dependable or lucrative.
"It would be very lucky for us to make about 20-30 yuan (US$2.50-3.70) a day by collecting iron. Sometimes we just draw a blank in the water, as we did yesterday," said Gao, who is worried they will lose their only regular income if their boat is forced to return to the Qingpu District on the outskirts of Shanghai, where they came from.
Reason for ban
Diesel powered boats mostly carry only small loads and cause serious pollution, according to Chang Fuzhi, vice-dean of the Shanghai Marine Safety Administration.
Since the beginning of 2005, the agency has been taking steps to ban diesel boats from the five urban inner rivers flowing into the Huangpu.
The inspection department of the agency found there were about 200 diesel boats on the Huangpu River, before the ban went into effect this month.
The administration has called the ban a "prudent move at an appropriate time," pointing out the harm diesel engines do to the marine environment. Excessive noise from diesel engines and the disposal of used oil directly into the water by boat operators were problems the administration highlighted.
Most of the existing diesel boats no longer deal with freight services but have become involved in what officials called "marginal work." Many of the diesel boats, like Gao's, salvage scrap iron, coal and other rubbish collected from the Huangpu. Others retrieve discarded oil and sell it to illegal refineries for re-use, according to Qu Chun, director of Ship Inspection Department with the administration.
Qu said use of the reprocessed oil causes even more environmental pollution.
A few diesel boat owners catch fish and eels, and some are used as unlicensed ferries.
Because of the nature and variety of the work they do, diesel boats are often involved in a high number accidents on the river, said Qu.